CLEVELAND — An exclusive 5 On Your Side investigation has found communities across Ohio are at risk of failing dams that are in need of repair due to poor and unsatisfactory conditions.
Watch Chief Investigator Ron Regan's story on News 5 at 6 p.m.
A review of the most recent data collected in 2018 by the National Inventory of Dams and the Ohio Department of Natural Resources found 581 dams across Ohio are in poor condition with another 14 rated as unsatisfactory.
RELATED: Browse the U.S. Army Corps of Engineers' National Inventory of Dams here.
We created this interactive map so you can find the condition of dams in your area.
Those alarming figures represent 40% of Ohio's 1,487 dams regulated by the state.
Of most immediate concern are the 119 dams in poor condition and 6 more in unsatisfactory condition that are rated as "High Risk" because failure would likely to lead to widespread property damage and loss of life.
Those "High Risk" dams are in highly populated communities like Shaker Heights where Horseshoe Lake Dam was drained as a safety precaution and in need of $10 million in repairs that are at least a year away.
In Medina County, Hinkley Lake Dam is a "High Risk" dam in poor condition, but an estimated $6 million in repairs is at least two years away.
Among the "High Risk" dams in Northeast Ohio, we found 33 in poor condition including:
Five in Summit
Four each in Cuyahoga, Medina and Ashtabula
Three each in Portage, Geauga and Trumbull
Mark Ogden, who once headed up Ohio's Dam Safety Program, is now Project Manager with the Association of State Dam Officials that consults with regulatory officials across the country.
"That's a significant percentage of the dams in Ohio—the 'High Risk' dams—that are listed in either poor or unsatisfactory condition," says Ogden.
Our review found one in every three "High Risk" dams in Ohio is in poor condition, but the Ohio Department of Natural Resources, which regulates dam safety, is required to inspect dams just once every five years. Yet it has only 10 inspectors to cover the state's nearly 1,500 dams.
Mia Kannick heads up Ohio's Dam Safety Program and insists that despite the workload, inspections are being performed on time.
"We are able to keep up with our inspection mandate," Kannick said. "We are required to inspect them every five years so that works out to be about 300 each year." Each inspector is responsible for about 30 dams every year.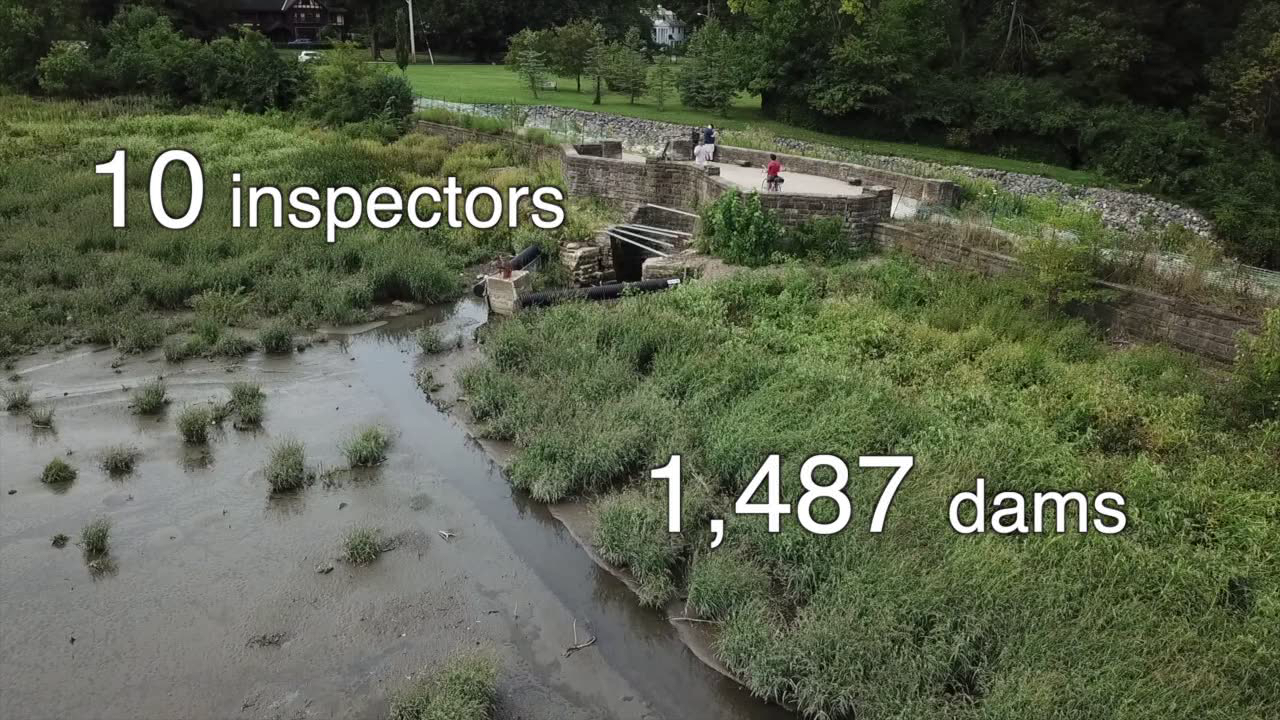 Kannick said her office has also increased enforcement efforts, which include issuing 34 notices of violation, another 30 orders to dam owners to make repairs and the referral of 22 dam owners to the Ohio Attorney General's Office for failing to comply with regulations.
Our investigation was prompted by the failure of the gate at Lake Dorothy Dam near Norton in Summit County last August that raised water levels downstream, causing minor flooding but raising anxiety levels for nearby residents.
The dam is rated in fair condition and is currently drained while undergoing repairs.
Dam safety experts warn that many homeowners are unaware of nearby dams that could potentially fail.
We found 250 dam failures over the last 15 years, according to the Association of State Dam Officials.
"They need to know that maybe they live downstream from a dam and what kind of dam is in their area," says Ogden.
The Association publishes "Living with Dams" as a reference guide for homeowners and others living near dams.
RELATED: View the latest "Living with Dams" document here.
The Northeast Ohio Regional Sewer District is currently working on plans to repair Horseshoe Lake Dam in Shaker Heights and has recently completed $5.6 million dollars in repairs to nearby Green Lake Dam.
Meanwhile, Cleveland Metroparks is planning $6 million in repairs for Hinkley Lake Dam but construction is at least two years away.
The U.S Army Corps of Engineers recently completed $60 million in repairs at Dover Dam in Tuscarawas County in 2015. It was considered in danger of failing.
"This was at risk," said Mike Stickler with the U.S. Army Corps of Engineers. "We could have had a storm that was larger than this was designed for and we could have water overtop it."
Meanwhile, Ohio has completed significant repairs at Portage Lakes East Reservoir Dam near Akron and has scheduled construction to begin later this year at its North Reservoir Dam.
It has also completed $110 million in repairs to Buckeye Lake Dam in Licking County.
In Wayne County, Shreve Lake Dam, rated in unsatisfactory condition and drained as a precaution, is also on the state's repair list.
In the last year, Ohio regulatory officials have reviewed repair plans for over 200 dams and issued 15 construction permits.
Safety experts say the high cost of repairing dam is the single biggest obstacle—it cost millions of dollars and many are either privately or state and local government-owned—making repairs a costly issue.
Enforcing dam safety regulations can also result in lengthy civil lawsuits that can take years to resolve—making quick repairs difficult.