CLEVELAND — After the deluge in demand that caused the United States Postal Service to deliver more than 1.1 billion packages over the holidays while also navigating the ongoing pandemic, the USPS said it continues to try to get back to pre-peak conditions. However, that crushing demand and the backlog that followed continues to show symptoms as some residents in Northeast Ohio continue to report delivery delays.
Under what a spokesperson described as some of the most difficult circumstances the agency has faced in the past century, the USPS reported substantial declines in on-time delivery rates for first-class mail and packages, according to the most recent quarterly performance data. To get through the backlog, USPS has retained peak season employees, added 10,000 employees at several key facilities and extended lease agreements at overflow sites in order to provide greater processing capacity.
Despite this, some residents like Bob Seedhouse have repeatedly seen delays.
"Some packages are delayed anywhere from 10 days to three weeks. Letters are the same," Seedhouse said. "It's bad for the people that are looking for their monthly check or for their medicines. For me, it's an inconvenience. I might get a [late] fee for my Visa but for some people, it's more important than that."
Seedhouse, a retired teacher and resident of North Olmsted for 30 years, said mail service at his longtime home has been nothing short of exemplary. He ventured to say he's had more late mail in the past three months than the past 30 years combined.
"To get a bill from Westlake that takes 8 to 10 days to get here... that's quite a long time," Seedhouse said. "For me, it's more of an inconvenience. For many people, it's a matter of life and death. Their check isn't here. They live week to week. That is what I think is terrible."
According to USPS performance data, from Oct. 1, 2020 through December 31, 2020, the on-time, two-day delivery rates for single-piece first-class mail in the Lakeshores Division, which includes Ohio and surrounding states, was more than 8 percentage points below the national average, coming in at 73.3 percent on-time. For three to five day deliveries, the on-time percentage fell to 47.8 percent, meaning mail in that category was delayed more than it arrived on time. The national average for two-day on-time deliveries was 81.5 percent and 54.6 percent for three-to-five day deliveries.
The Lakeshores division fared much better with packages during the first quarter of Fiscal Year 2021 with a 78.7 on-time delivery percentage, just two points short of the national average.
According to weekly performance data submitted as part of a 2020 lawsuit against the USPS and Postmaster General Louis DeJoy, the on-time delivery rates for the Northern Ohio district, which specifically includes Cleveland, Toledo and Youngstown, were staggeringly low. At the beginning of December and during peak season, first-class mail was delivered on-time only half the time during the week of December 5. That on-time percentage fell to 27.8 percent during the week of December 26.
The falling on-time delivery percentages coincided with long lines of semi-trucks that were parked outside the USPS distribution center south of downtown.
However, USPS has also changed the way it reports quarterly performance data, and, in effect, has made it more difficult for the public to view the performance of USPS in their specific area. Prior to the first quarter of the fiscal year 2021 (Oct. through Dec. 2020), USPS would publish its performance data on a per-district basis. The newest report, however, lists the data on a per-division basis, meaning that the performance of Northern Ohio is lumped into the performance of the broader region, which also includes Indiana, Michigan, all of Ohio and part of Pennsylvania. News 5 has submitted a Freedom of Information Act request for the performance data of the Northern Ohio district.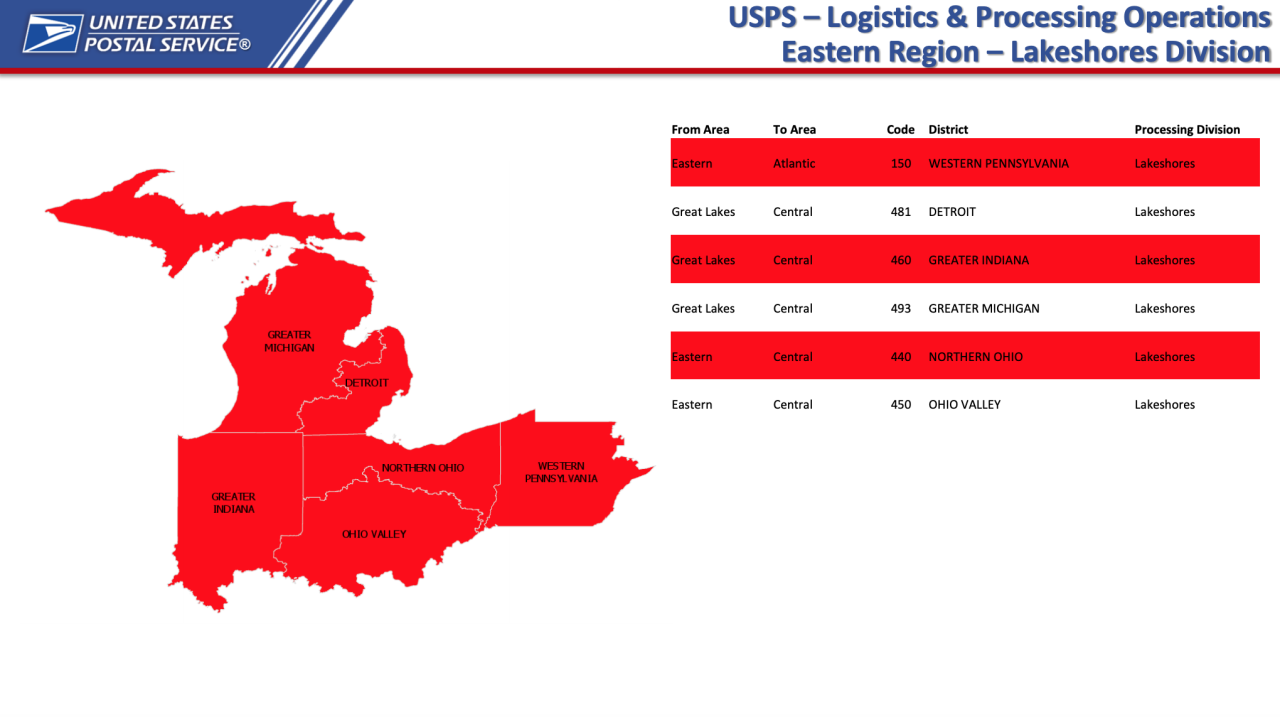 A spokesperson said the delays were caused by a myriad of factors, demand being chief among them.
"Throughout the peak season, the Postal Service, along with the broader shipping sector, faced pressure on service performance across categories as it managed through a record of volume while also overcoming employee shortages due to the ongoing surge in COVID-19 cases, winter storms in the Northeast, as well as ongoing capacity challenges with airlifts and trucking for moving historic volumes of mail," the spokesperson said in a statement.
To stabilize operations, the Postmaster General and other top USPS leaders took numerous steps, including retaining temporary, holiday rush employees, adding overflow and annex properties to build capacity and having employees work overtime. Additionally, USPS also overhauled the structure of the organization, allowing USPS executives to better view and respond to operational issues.
"The Postal Service strives every day to provide excellent service to our valued customers and we apologize for any inconvenience that may have been experienced," the spokesperson said in a statement. "We have returned to pre-peak operational conditions in most areas and we fully anticipate continued improvements in service performance."