PHOTOS: The glory days of the Cleveland Browns
They win some, they lose some but, more recently, well at least the entire 2017 season, the Browns continue to lose. After the team's founding in 1944, the Browns dominated the league early on with four NFL championships between 1950 and 1964. They were the team to be and the fans to have. The latter is still true. A bump in the team's history came when owner Roger Modell announced he would transfer the franchise to Baltimore. Fans and city responded to bring back football to Cleveland.
The Cleveland Browns prepare for their first-ever team flight on October 11, 1946. Paul Brown innovated travel in professional sports as the Browns became the first pro team that flew to all road games. On this day, the Browns are heading to New York for a Saturday night contest against the Yankees. The Browns won an ugly 7-0 game on the strength of a late New York turnover"
Photo by: The Cleveland Memory Project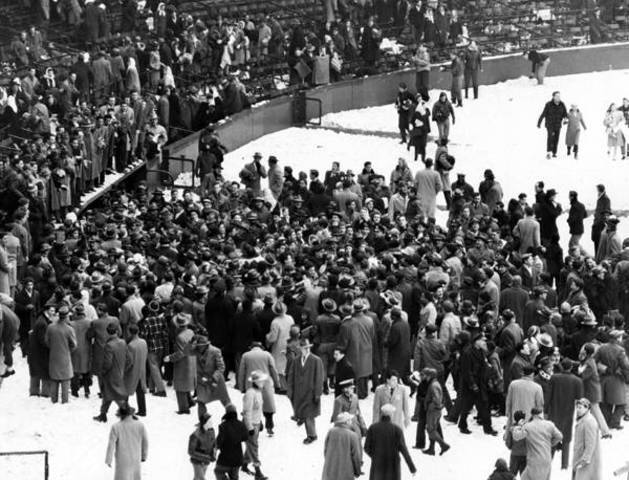 Cleveland fans mobbing players and sharing their appreciation after watching the Browns capture their first AAFC championship in 1946.
Photo by: Cleveland Memory Project
Browns practice before 1965 NFL championship game. (1965).
One of the best offensive lines in NFL History, Cleveland Browns host Pittsburgh Steelers. In a familiar sight to Browns fans of the 1960s, Jim Brown runs behind his line, one the best in NFL history. Leading the way are Larry Stephens (#68), John Wooten (#60), and Jamie Caleb (#36), while Gene Hickerson (#66) and Fred Murphy (#87) have already finished off their blocks. (1960)
Photo by: The Cleveland Memory Project
NEW YORK: The ground crew at Yankee Stadium has a thankless task as they try to stem the tide of mud and rain water before the Cleveland Browns-New York Giants game December 12th. A Cleveland victory wraps up the Eastern Division championship for the Browns. ( 1964)
Photo by: Cleveland Memory Project
East 9th Street - Charter buses using reserved lanes on E. Ninth St. for Browns football game. 1971.
Jim Brown goes over the top for 1 yd TD. With 5:54 left in game - Lou Groza kick made it 24-17 Vikings.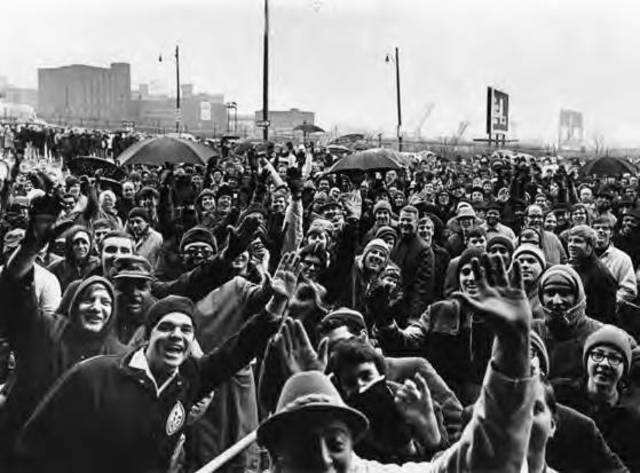 Enthusiastic crowd cheer as they wait to purchase NFL championship tickets. 1968.
Fans hold up sign-1980.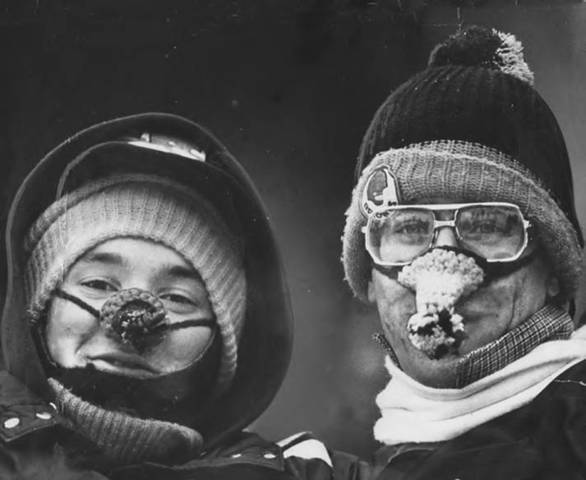 Mike Kreiner - left, Paul Kope - Browns nose warmers.-1981.
Free donuts and coffee courtesy of Browns-1980.
Fans line up outside Stadium for Browns annual 'Seat Improvement Day-1975.
Tailgate Party thrown by Clevelander Bill Wilhelm-1980.
December 16, 1980
Fans salute Browns in final home game of 1975 season - Stadiums - Cleveland Municipal Stadium- Fans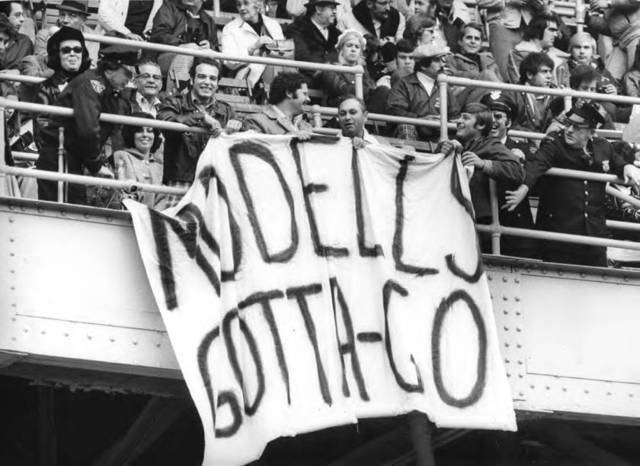 Fans holding sign that says "Modell's Gotta Go." "Stadiums - Cleveland Stadium- Crowds-1974.
Lou Groza signs a football for [Westlake Junior Women's] club member Mrs. William Reynolds, wife of ex-Brown player Willie Reynolds.
Photo by: The Cleveland Memory Project