A fan seated on the third base line at Yankee Stadium Tuesday night had not one, not two, but three chances to make a catch - and missed them all.
Download the FREE newsnet5 app: Apple | Android
And the reaction online is almost as painful as watching the video.
"...the pop fly and ground ball are somewhat excusable, but getting hit in the face by a toss from the ball boy? Brutal." - James Lumalu, BustedCoverage.com
FOLLOW: newsnet5.com on Facebook and Twitter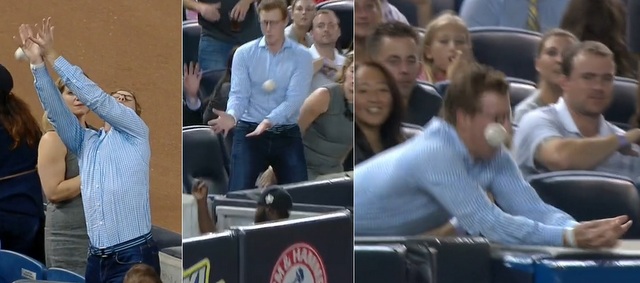 (Screengrabs by MLB)
"As if it weren't bad enough that this guy is doing this on a game being broadcast by ESPN, just look at the woman sitting to his left. She is just straight up laughing at him. That's so cold, even if it's probably deserved." - Cody Williams, Fansided.com.
Think you're having a bad day? You could be this guy at Yankee Stadium tonight. #epicfail pic.twitter.com/knsQkcBFPJ

— Lionel Bienvenu (@lionelbienvenu) September 30, 2015
---
Follow newsnet5.com on Facebook and Twitter
Download the newsnet5 app: