CLEVELAND — In honor of reaching a 50th season milestone, the Cleveland Cavaliers unveiled their 2019-20 Nike City Edition uniform inspired by various Cavaliers uniforms over the last 50 seasons—the last of five uniforms that will be worn during the season.
The city edition's navy colorway is inspired by the Cavs alternate uniforms that were worn by the team from 2005 to 2010. The front of the jersey acknowledges the uniform worn by the inaugural team from 1970 to 1974, with the letters "CLE" in a bold, gold script accented with a feather.
The player number appears in a wine and gold inline typeface that is inspired by the black, orange and powder blue uniforms that debuted when the Cavs returned to the city in 1994 at the Gund Arena.
On the back of the jersey, there's a small square patch on the back-center collar that displays the number "1" positioned inside a Larry O'Brien trophy to represent the team's 2016 championship.
The Cavaliers will debut the City Edition uniform on Nov. 27 vs Orlando Magic at Rocket Mortgage Fieldhouse at 7:00 p.m.
The Cavaliers will wear the uniform for 11 games, in addition to its Nov. 27 debut.

Tuesday, Dec. 3 vs. Detroit Pistons 7:00 p.m.
Friday, Dec. 6 vs. Orlando Magic 7:30 p.m.
Saturday, Jan. 4 vs. Oklahoma City Thunder 7:30 p.m.
Sunday, Jan. 5 vs. Minnesota Timberwolves 7:30 p.m.
Tuesday, Jan. 7 vs. Detroit Pistons 7:00 p.m.
Monday, March 2 vs. Utah Jazz 7:00 p.m.
Wednesday, March 4 vs. Boston Celtics 7:00 p.m.
Saturday, March 7 vs. Denver Nuggets 7:30 p.m.
Thursday, March 26 vs. Los Angeles Lakers 7:00 p.m.
Monday, March 30 vs. Phoenix Suns 7:00 p.m.
Accompanying the team's uniforms will be the special City Edition court. A bold, gold "CLE" feather logo outlined in navy, inspired by the Cavaliers original logo from 1970-74, is displayed at half court.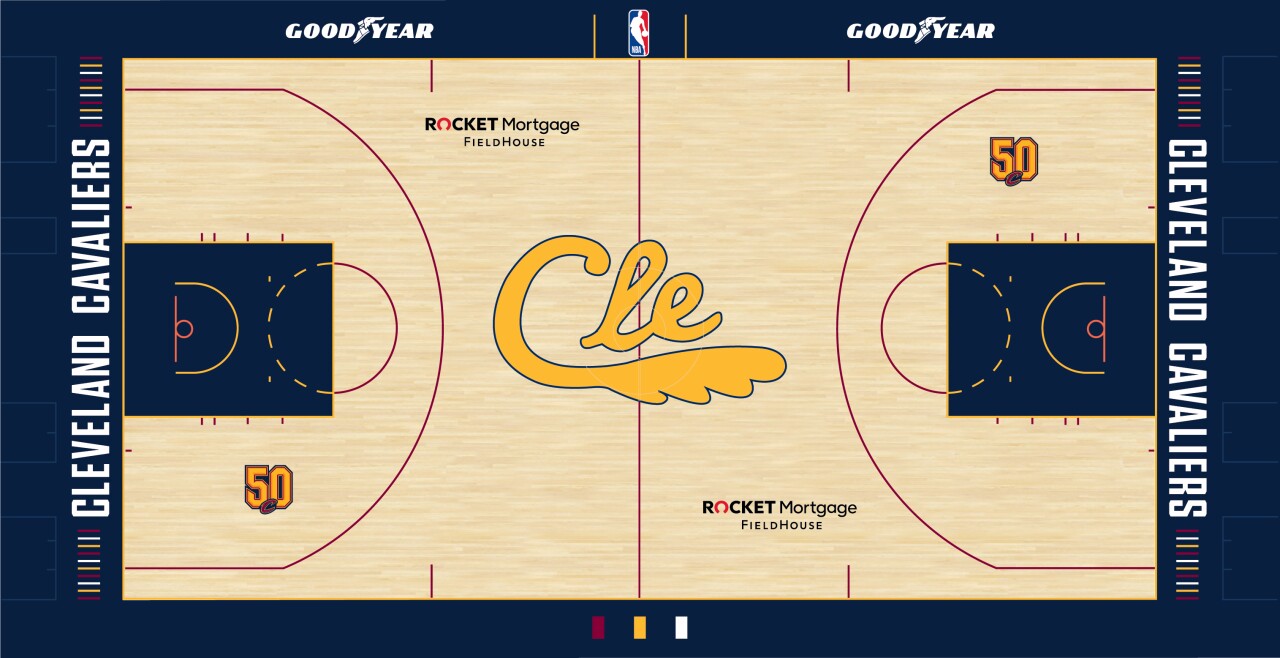 Fans can have a chance to rock the City Edition collection beginning on Saturday, Nov. 23 at the Cavs Team Shop at Rocket Mortgage FieldHouse or Cavs.com.