NEWBURY TOWNSHIP, Ohio — Five people were killed and two others were seriously injured after a two-vehicle crash on State Route 44 involving a van leased to a nonprofit for adults with developmental disabilities. The crash happened south of Pekin Road, in Newbury Township, located in Geauga County, according to the Ohio State Highway Patrol.
Troopers received a call at approximately 11:04 a.m. Monday about a serious injury crash.
The crash involved a 2003 Ford Econoline Van, later confirmed by authorities to be owned by the Cuyahoga County Board of Developmental Disabilities and leased to Solutions At Work (SAW), Inc., a non-profit that provides adults with developmental disabilities work, training and recreational opportunities.
Those involved in the crash were part of a mobile work crew that provided custodial services to SAW's partner businesses, CEO Judy Carey said in a statement Tuesday afternoon.
"This mobile crew have been long time dedicated, hardworking, proud workers," Carey said.
The van and a commercial tractor with an attached flatbed trailer were found on State Route 44 with severe front-end damage from "an apparent head-on crash," the OSHP said in a news release.
On Tuesday, OSHP stated that the investigation revealed the van was traveling south on SR-44 and the commercial vehicle was traveling north. The van traveled left of the center lines and struck the commercial vehicle head-on, OSHP officials said. It is unknown at this time what cause the van to travel left of the center lanes.
View footage from AirTracker 5 in the media player below:
Multi-vehicle crash with 'multiple fatalities' closes SR 44
The van was occupied by a driver and six passengers. The driver and four of the passengers died in the crash, the OSHP said.
On Tuesday, OSHP identified the five van occupants killed in the crash:
Darryl J. Barnes, 62, of Garfield Heights, who was driving the van
Kipp A. Ginn, 47, of Cleveland
Vonda R. Harris, 57, of Cleveland
Rhonda D. Hutchinson, 44, of University Heights
Ke'Mel B. Jenkins, 28, of Cleveland
The other two passengers were transported with serious injuries to a local hospital.
The driver of the commercial trailer was transported to the hospital for non-life-threatening injuries.
"We ask that members of the media and others please respect the privacy of the families of those involved during this difficult time," Carey said.
After the crash, the Cuyahoga County Board of Developmental Disabilities confirmed it owned the van and was leasing it to SAW, Inc., and issued the following statement:
Our hearts go out to everyone involved in today's tragic accident, and our condolences go to the family members of those who lost their lives. Cuyahoga DD is in contact with the families of the individuals affected to help them navigate this incredibly difficult time.
Carey issued this statement Monday evening:
Our thoughts and prayers go out to the victims and families of those involved in today's tragic motor vehicle accident. SAW, Inc. has offered their complete cooperation to local authorities as they investigate the circumstances of today's accident. We will keep all involved parties informed of any developments, and will act as a resource for those that require assistance during this difficult time.


A follow-up statement released by Carey Tuesday afternoon reads, in part:
At SAW, we continue to grieve the loss of five of our valued SAW family members. We also keep our thoughts and prayers with the two surviving SAW individuals from the accident for their full recovery, and others involved. We are working closely with the Ohio State Highway Patrol as they continue to investigate this tragic accident. SAW, Inc. is a long-time partner with Cuyahoga DD and service provider to adults with developmental disabilities.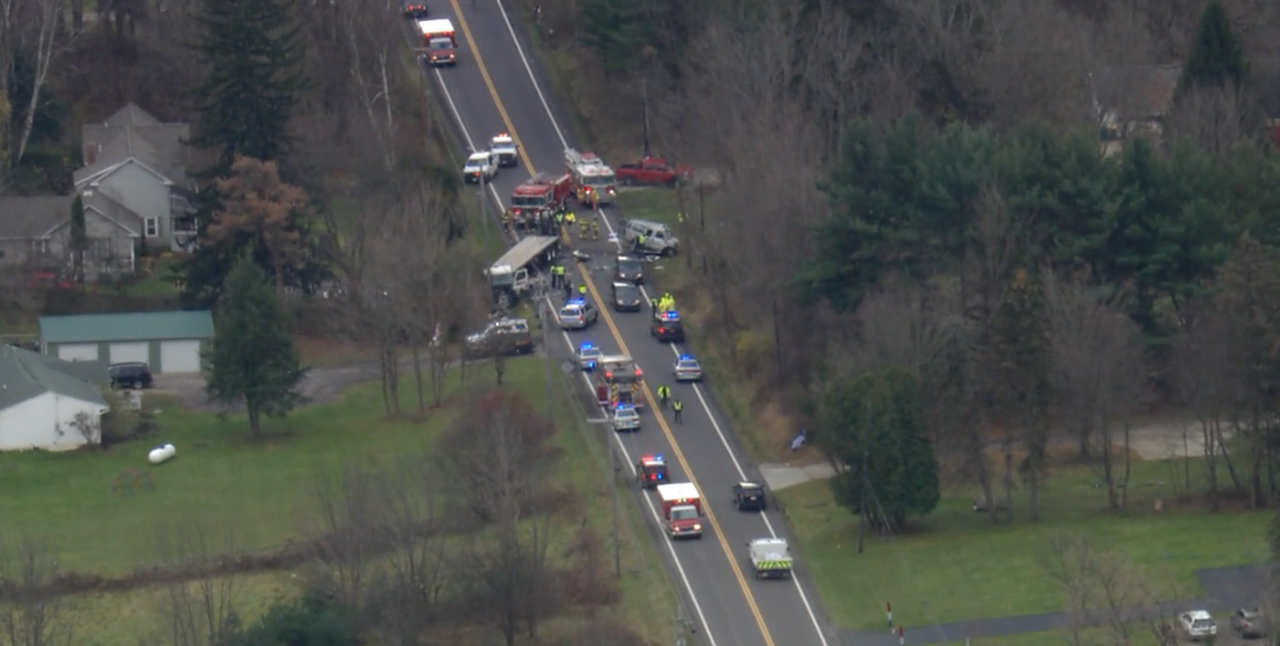 State Route 44 was closed for several hours Monday.
OSHP said the crash remains under investigation.
Click here to see the latest traffic information and an interactive traffic map on our Akron-Canton Traffic Center