ZANESVILLE, Ohio — More than 20 years of battling Crohn's Disease pushed Mary Keonig to her wit's end.
"It's been a heck of a journey," said Koenig. "I've been through a lot. In and out of hospitals since the day I got diagnosed."

Koenig explains how using medical marijuana has made a noticeable difference in how she feels to the point that her boyfriend and families members have noticed.
But she found she could keep the intense pain at bay with a treatment still getting off the ground in Ohio.
"The medical marijuana actually helped," said Koenig. "I was like, 'Oh my gosh, I don't have any symptoms."

Koenig shows the marijuana flower she purchased from a dispensary to help treat her Crohn's Disease.
In the roughly two months that Ohio patients have been able to buy medical marijuana from dispensaries, only raw marijuana flower has been available .
The raw flower has been grown by cultivators which, with a special license, have been able to sell that flower directly to dispensaries, after the flower is tested at state labs.

Marijuana plants wait to be harvested at Grow Ohio's cultivator facility in Zanesville, Ohio.
With the state's first processor, Grow Ohio, getting its Certificate of Operation late last week, patients will soon have many more options for how to consume their medical marijuana.
"The reality is what's in here is what we'll be able to plug into our products," said Grow Ohio Director of Sales Josh Febus, showing News 5 the processing equipment.

Febus shows the machine that will bottle Grow Ohio's line of topical medical marijuana treatments.
Grow Ohio will have a line of medical marijuana products that will include tinctures, oil in syringes, gummies, capsules, and topical creams. Until now, patients have been limited to purchasing raw marijuana flower, which they can only consume by vaping and may not help all the patients who have one of the state's 21 qualifying conditions to purchase medical marijuana.

Koenig's vape and grinder sit with her medical marijuana container on the coffee table in her home while showing them to News 5. So far, patients like Koenig have only been allowed to vape medical marijuana because no other forms are available or legal.
"Different forms are going to be better for different conditions," said Grow Ohio Executive Vice President Justin Hunt. "For arthritis, a patient would probably prefer a topical over plant material."
For patients like Koenig, that means bringing new packages of Medical Marijuana home that not everyone might realize contains the part of the marijuana plant that gets users high, THC.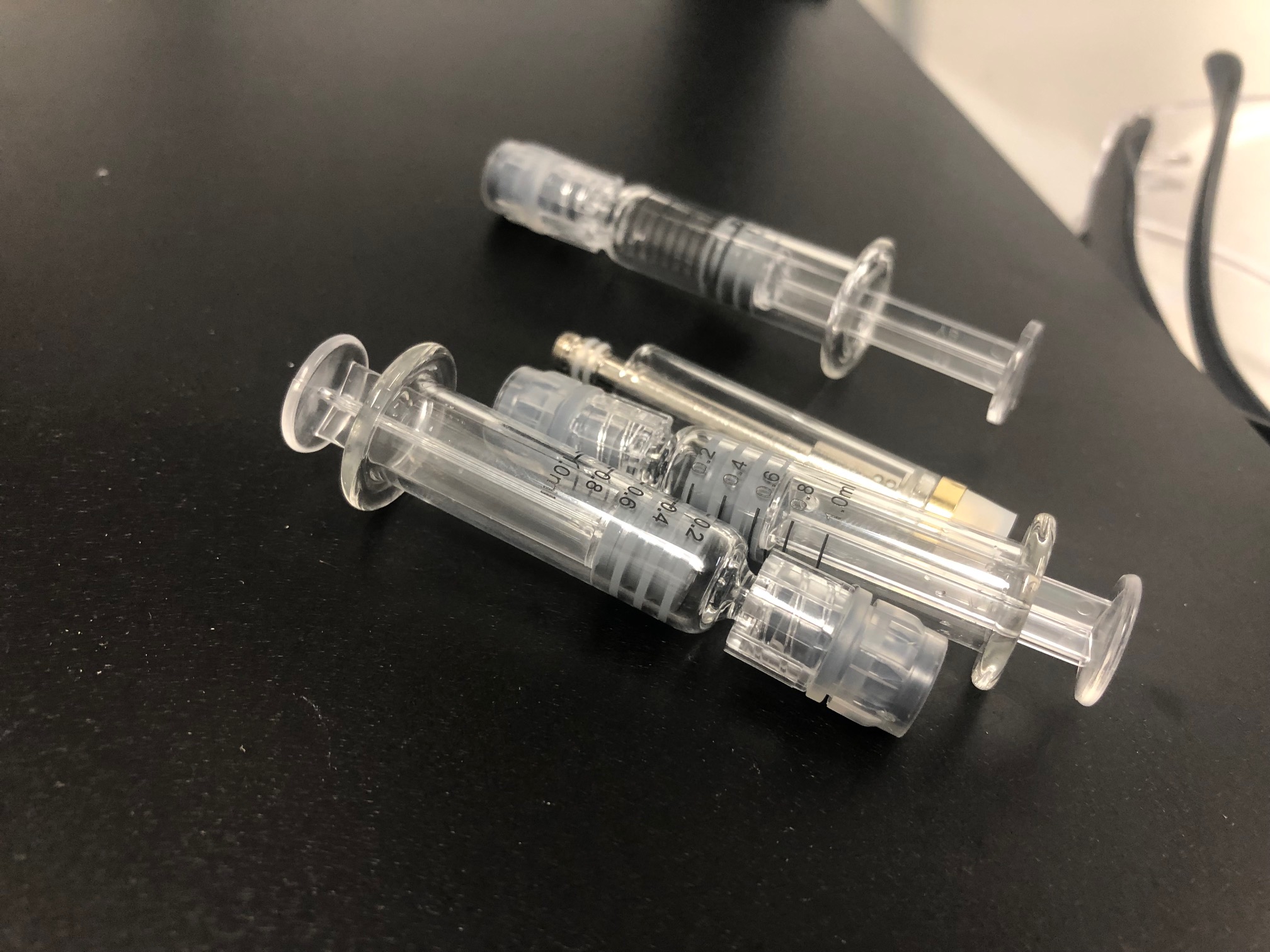 Empty syringes wait to be filled with oils that patients will likely be able to buy in April.
"I had no idea until I got it," said Koenig, referring to how she'd store her raw marijuana flower once she bought it.
Koenig worked out a system where she keeps all her medication and medical marijuana in a part of her house where her 9-year-old knows she isn't allowed to go, and on a high shelf where her dog can't reach it.

Koenig plays with her dog, who she makes sure stays away from the area where she keeps her medical marijuana.
Hunt says the packaging will help. The THC symbol is required on all packaging for products that have it. Then, there's the safeguards built into the design.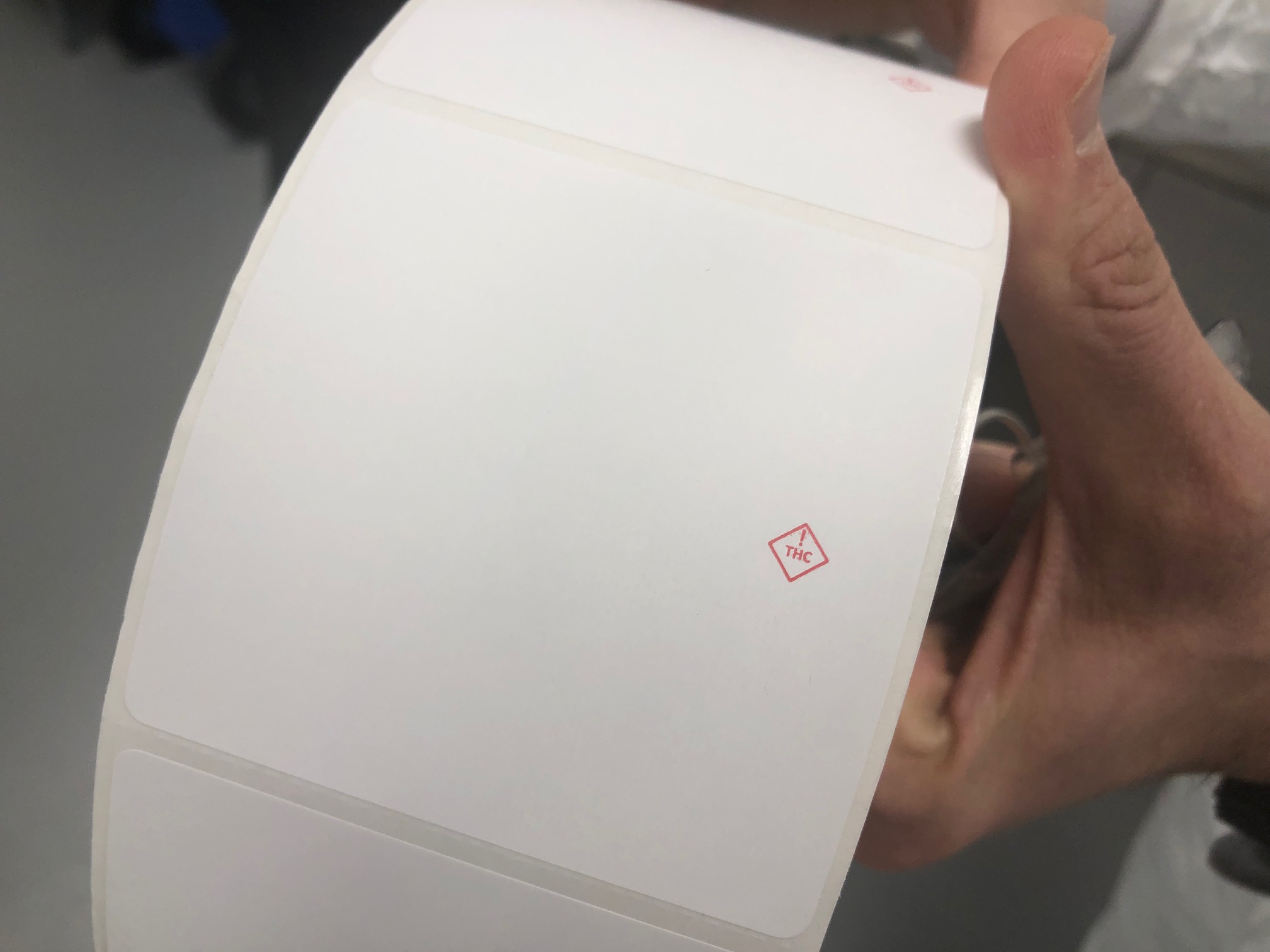 The THC symbol tells patients and anyone else who might find the container this sticker will be on that the product inside has THC.
"With the tamper-evident, child-proof [lid], just like you would have with other medicines, other prescriptions, we want to make sur that kids can't get into this," said Hunt.
Ohio Code says medical marijuana should be kept in the container that it's purchased in at all times.

Koenig's medical marijuana container.
The Board of Pharmacy also has a set of guidelines for patients. You can find them here.
RELATED: Ohio Marijuana Card says it's written most recommendations after specializing in medical marijuana