CLEVELAND — Parents in the Avon School District are seeing a presentation tonight about the latest version of the cat and mouse game in schools that's played out for generations. Students sometimes have things they aren't supposed to have and school staff tries to stop them.
Decades of enforcing school rules and national campaigns to convince young Americans to stay away from cigarettes put a large dent in youth smoking numbers. A few years ago, that progress was challenged when e-cigarettes and other vaping products made it easier to secretly smoke without some of the harmful side-effects of traditional cigarettes.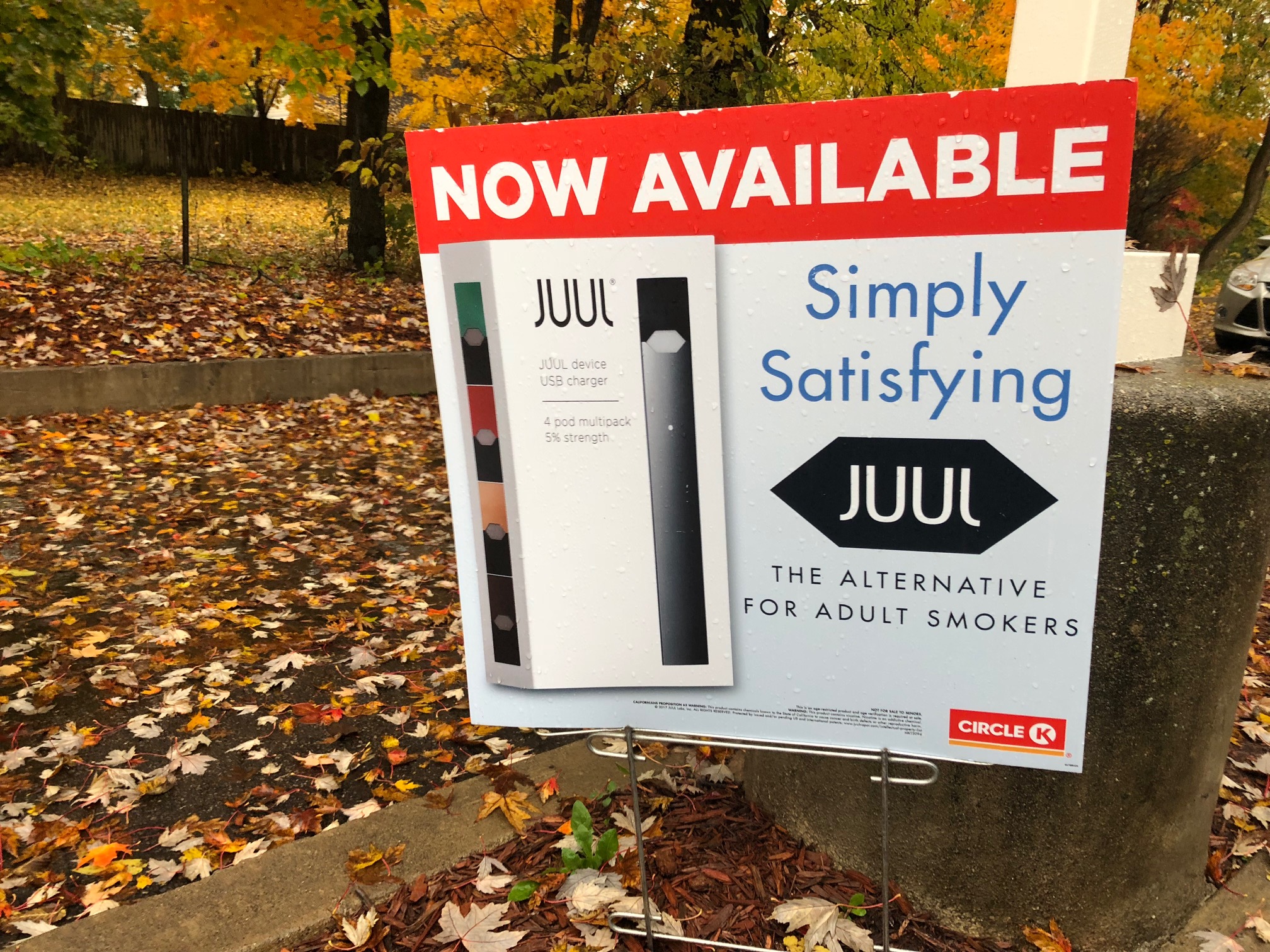 Ads and spokespeople for Juul the product is only for adults, but educators know that students are able to get others to buy Juul devices and refills for them.
Now, News 5 is finding that Northeast Ohio school districts are considering and enacting nicotine testing along with drug tests, trying to discourage students from getting hooked on nicotine in the first place.
The Food and Drug Administration estimates that nearly 40 percent of high school students have tried and e-cigarette, and The LCADA Way says about 20 percent of high school seniors smoke right now.

A gas station not far from Wadsworth High School advertises their Juul stock on the front sign.
The answer for many districts is to include nicotine testing in drug testing policies that are in consideration or have already been put in place. In many public schools, any student who takes part in extracurricular activities or buys a parking permit is entered into a group of students that can be randomly drug tested.

Students at Wadsworth High School who are involved in extracurricular activities or buy a parking pass are required to be eligible for random drug tests. Of the roughly 1,500 students at the high school, the district says about 1,000 are tested at least once a year.
Wadsworth High School Principal Steve Moore says his staff now frequently checks bathrooms, locker rooms, and anywhere else where students might be able to sneak a smoke. Vaping pens are so easy to hide that students can easily keep them out of sight in pockets or purses.
"It's really become our No. 1 issue that we've had when it comes to illegal devices in our school," said Moore.

Juul devices are so small that educators say they can easily be hidden even in the middle of a class.
Smoking and illegal drug use have always been against his school's Code of Conduct, but as the opioid epidemic continues in Ohio, the Wadsworth School District created a drug testing policy for any student who seeks privileges of a parking pass or extracurricular activities. Moore says the possibility of a test helps students stand up to peer pressure.
"We really tired to just give kids an avenue to say 'No," said Moore. "That's really what the drug testing part has been."

Juul customers tell News 5 it's not uncommon to spend thousands of dollars a year on refills depending on how often the customers smokes.
The LCADA Way Associate Director of Community Education & Prevention Services Jose Flores is giving the presentation in Avon Monday night, and he says many students and their parents don't know much about the vaping products students are using.
"It's been marketed as the safe alternative to smoking so it's safer, it's safer, it's safer," Flores repeated. "But that doesn't necessarily mean it's safe for you."

Juul products are a common sight at gas stations all over Ohio.
Doctors agree that compared to smoking traditional cigarettes, vaping products don't expose users to tar and smoke. But doctors also say that vape products haven't been around long enough to know exactly how other chemicals in vape products affect users in the short term and long term.
Plus, Flores says nicotine use for students is bad enough, but there's an added danger.

Juul's flavored products are no longer sold in stores and can only be sold online. Critics say that helps keep them away from underage users, but that many teens can get around those safeguards.
"Any vape product, these little mods, or tanks, or vape pens, or Juuls, any of them can be used to deliver marijuana concentrates as well," said Flores.
In the fall, the F.D.A. cracked down on vaping companies after saying youth vaping had reached epidemic levels. After that, the company that dominates the market, Juul, announced that they would cut back retail for flavored products and would shutdown many of their social media accounts.
The ACLU tells News 5 they are against any kind of testing in public schools because they say students are guilty until proven innocent. The Supreme Court has already decided that drug testing is a reasonable way to address concerns over deterring drug use in schools.