EUCLID, Ohio — A strange phenomenon in Euclid has residents there scratching their heads. Euclid police looking into reports from residents about loud booms that shake their houses, and are seeking more details from anyone else who has experienced them.
From Oct. 14 to Tuesday, loud booms or explosion sounds have been reported in the northeast quadrant of the City of Euclid, police said in a Facebook post. The booms have actually shaken some houses.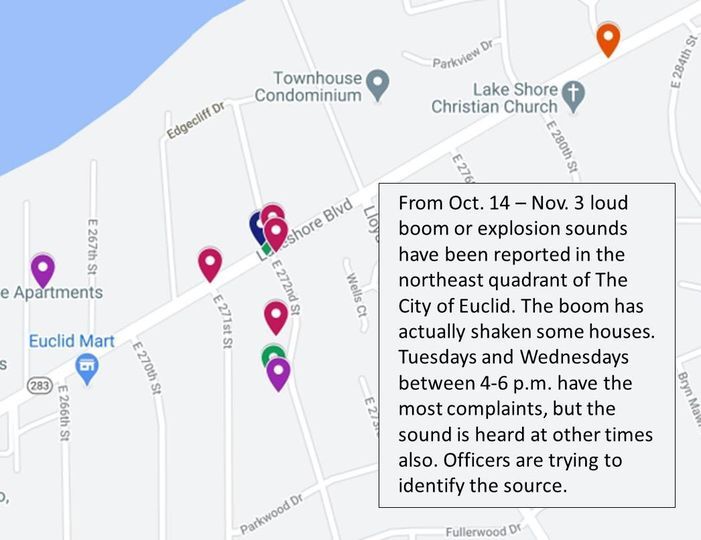 Carol Tamburro said she's experienced six weeks of sleepless nights.
"I've heard them during the day occasionally, but mostly at night," Tamburro said.
Tamburro said there is no concrete explanation for the loud booms that are causing major confusion for her and her neighbors.
"It's the talk of the town," Tamburro said. "Anywhere from earthquakes to construction to explosions."
The most complaints have come on Tuesdays and Wednesdays between 4 p.m. and 6 p.m., but the sound has been heard during other times as well, Euclid police said.
"It's unexplainable. It's peculiar," George Wilson said. "Me, my wife and my neighbors all want to know what's going on."
Documents show at least six reports since Saturday, October 31 of "possible transformer explosion," "loud explosion sound that rocked the house" and "explosion louder than fireworks."
"It scared me. When I was in the car I jumped. It just scared me. My initial reaction was it was like an explosion," Wilson said. "My neighbors on the left of me and right of me, they all came out and they experienced the same boom."
Wilson has lived in his Euclid home for 22 years and said while he's not particularly concerned for his family's safety, he would like an explanation.
"It's weird and I've never experienced that and I've been in this neighborhood since 1998," Wilson said.
Euclid police told News 5 when they arrived at each call for service, they were unable to determine a cause for the explosive noises.
Officers are trying to identify the source, and are asking any other residents who have experienced the booms to call them at 216-731-1234 and provide as much detail as possible about the location of the explosive sounds.
The Morning Journal in Lorain County reported similar boom noises in the Sheffield Lake and Sheffield Village areas, incidents also cited by Euclid police, but there is no indication at this time that the booms in Euclid are related.