CLEVELAND — Ohioans may have missed out on the opportunity to legally bet on Ohio State's playoff game Saturday night, but it didn't dampen in any way their desire to participate in the sports betting process.
GeoComply is a cybersecurity company that provides geolocation and security services to Ohio's online sports betting operators. They are able to track when and where people log in to their accounts to make sure they're in the state and able to bet. In the first 48 hours, they tracked 11.3 million geolocation transactions in Ohio.
"I don't think anyone could have seen this coming," said Robert Linnehan, a sports betting industry analyst and regulatory writer for XL media. He says a "geolocation transaction" is not a bet but rather someone simply logging into their sports betting account.
"So I think that's an important distinction to make but when you have people logging on to their accounts, they're most likely betting so it's a good gauge of how a market is doing," he said.
Ohio became the 32nd state in the country to offer legalized sports betting, but that 11.3 million was top in the nation in that time period — two million more than New York state, which has been the industry leader. And 234,000 of those logins or transactions came during the first hour of New Year's Day when sports betting went live.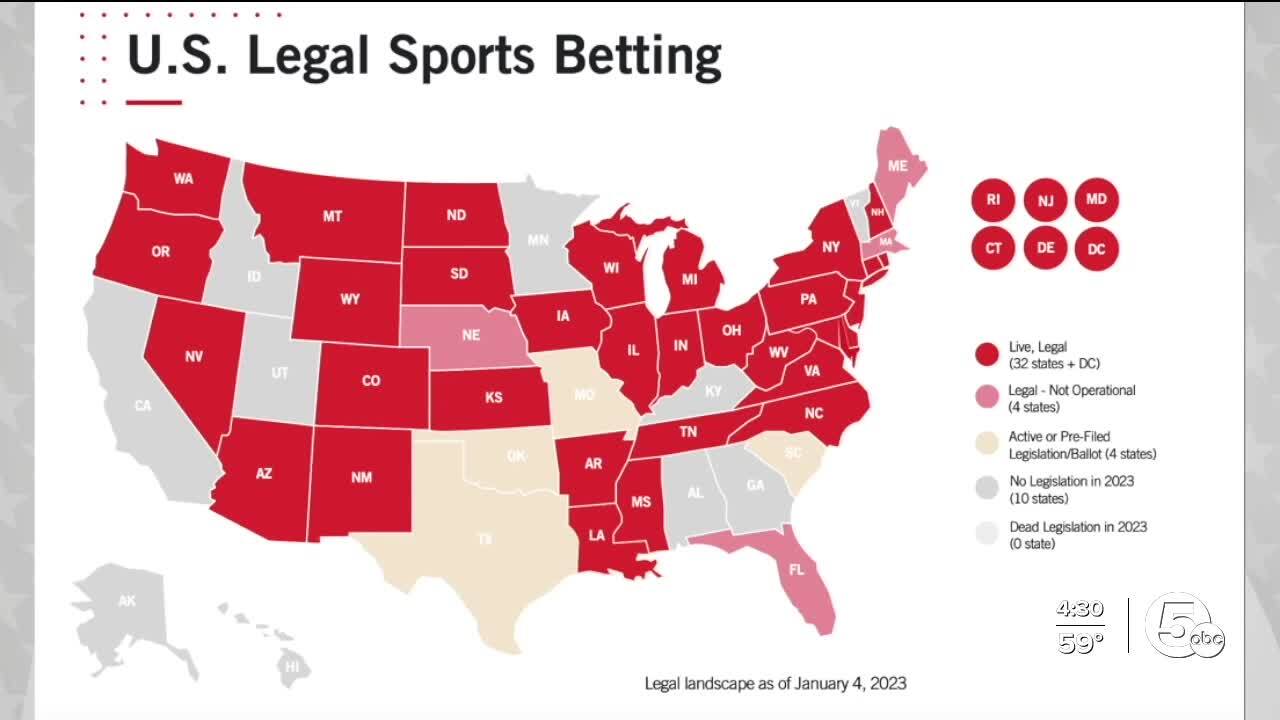 "A lot of industry experts that I talk to have real high hopes that this could be a state that is a top 5 sports betting market as it matures and it really couldn't have started off much better," Linnehan said.
While Cleveland is a Browns town for sure, we were actually third among the state's top cities when it came to the number of geolocation checks — 772,000 behind Columbus with just over a million and Cincinnati at nearly 2 million. It's a number likely fueled by the fact that the Browns played Sunday, 13 hours after the launch, and the Bengals were slated for Monday night. A Cincinnati Super Bowl run like last year would bode well for the fledgling industry.
"The Bengals doing well and staying in as long as they can will only be a sort of the cherry on top of the sundae there for Ohio and their tax revenue dollars that they can make from that," Linnehan said.
GeoComply Senior Vice President of Compliance Lindsay Slader said in a release, "we are thrilled to welcome another state into the regulated online sports betting sector. As expected, residents of the Buckeye State enthusiastically greeted the market at the moment the calendar changed over to 2023."
"Today, about 44 percent of the American population can bet online with legal and responsible operators. The launch of regulated online sports betting in Ohio will better protect its citizens, with an increased commitment to responsible gambling and new funding for critical state programs," Slader added.