CLEVELAND — Maroon 5, Travis Scott and Big Boi are set to take the stage for Super Bowl LIII's Halftime Show, joining the ranks of Beyonce, Madonna, Prince and the King of Pop Michael Jackson to name a few.
There have been many talented artists to perform during the Super Bowl Halftime Show, it gets easy to forget just who all has been given the honor.
Here is a complete list of Super Bowl halftime performers:
2018: Justin Timberlake and the Tennessee Kids, University of Minnesota Marching Band
2017: Lady Gaga
2016: Coldplay, Beyonce, Bruno Mars, Mark Ronson, Gustavo Dudamel, University of California Marching Band, Youth Orchestra L.A.
2015: Katy Perry, Lenny Kravitz, Missy Elliot, Arizona State University Sun Devil Marching Band
2014: Bruno Mars, Red Hot Chili Peppers
2013: Beyonce, Destiny's Child
2012: Madonna, Nicki Minaj, LMFAO, Cirque De Soleil, M.I.A., Cee Lo Green, Andy Lewis, Indiana area high school drumlines, choirs, and dancers
2011: The Black Eyed Peas, Usher, Slash, Dallas/Ft. Worth- area high school drill teams and dancers
2010: The Who
2009: Bruce Springsteen and the E Street Band
2008: Tom Petty & the Heartbreakers
2007: Prince, Florida A&M University Marching 100 Band
2006: The Rolling Stones
2005: Paul McCartney
2004: Jessica Simpson, Janet Jackson, Justin Timberlake, P. Diddy, Nelly, Kid Rock, Texas area high school marching bands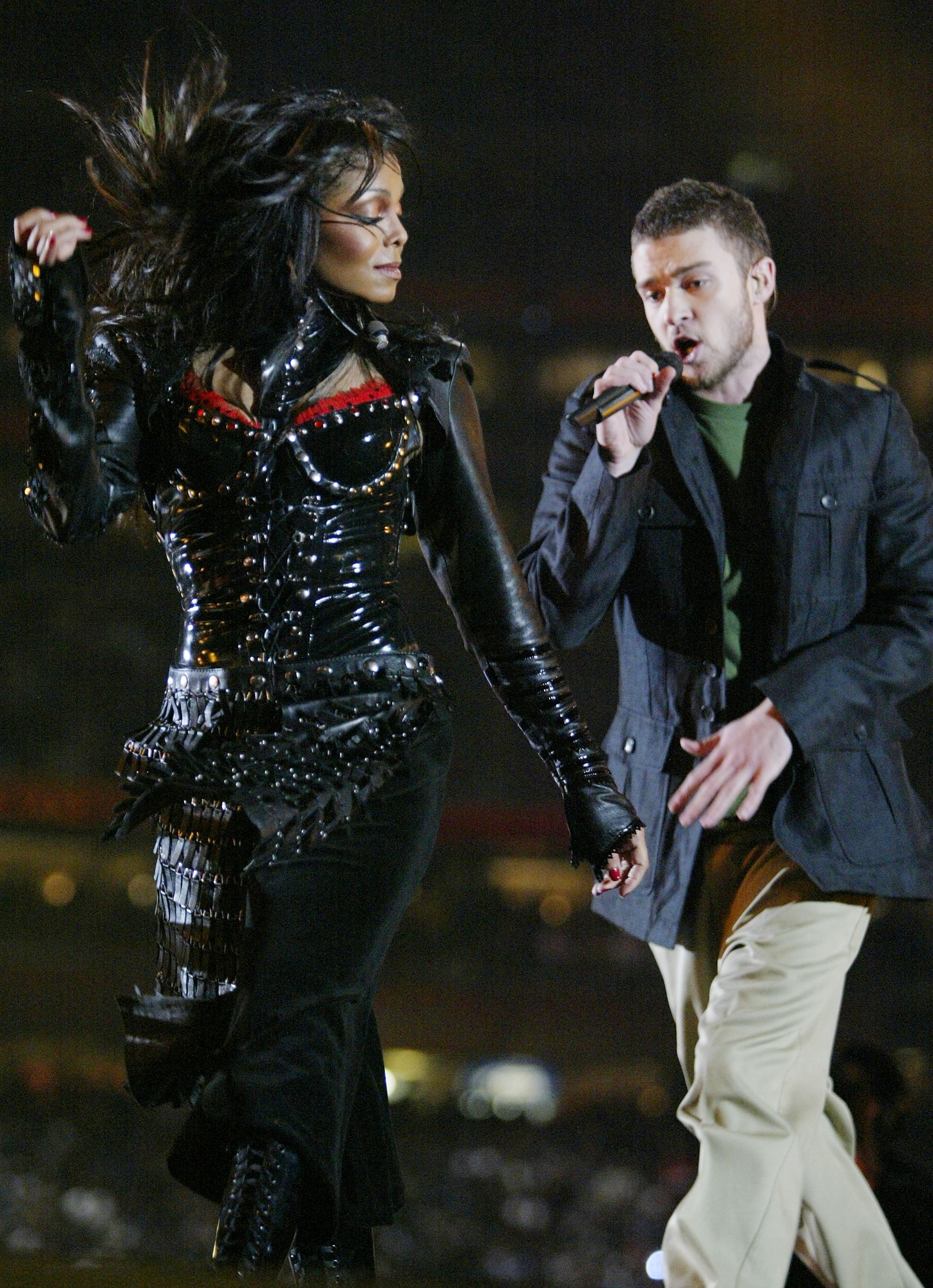 2003: Shania Twain, No Doubt, Sting
2002: U2
2001: Aerosmith, NSYNC, Britney Spears, Mary J. Blige, Nelly
2000: Phil Collins, Christina Aguilera, Enrique Iglesias, Toni Braxton, Edward James Olmos, 80-person choir
1999: Gloria Estefan, Stevie Wonder, Big Bad Voodoo Daddy, Savion Glover
1998: Boyz II Men, Smokey Robinson, Martha Reeves, The Temptations, Queen Latifah, Grambling State University Marching Band
1997: The Blues Brothers, ZZ Top, James Brown, Catherine Crier
1996: Diana Ross
1995: Patti Labelle, Indiana Jones & Marion Ravenwood, Teddy Pendergrass, Tony Bennett, Arturo Sandoval, Miami Sound Machine
1994: Clint Black, Tanya Tucker, Travis Tritt, The Judds
1993: Michael Jackson
1992: Gloria Estefan, Brian Boitano and Dorthy Hamill, 1980 US Olympic Hockey Team, University of Minnesota Marching Band
1991: New Kids on the Block, Warren Moon, Disney characters
1990: Pete Fountain, Doug Kershaw, Irma Thomas, Nicholls, Louisiana college marching bands
1989: Elvis Presto, South Florida-area dancers and performers
1988: Chubby Checker, The Rockettes, piano players and California college marching bands
1987: George Burns, Mickey Rooney, California college and high school marching bands
1986: Up with People
1985: Tops in Blues
1984: University of Florida and Florida State University Marching Bands
1983: Los Angeles Super Drill Team
1982: Up with People
1981: Southern University Marching Band, Helen O'Connell
1980: Up with People, Grambling State University Marching Band
1979: Ken Hamilton, various Caribbean bands
1978: Tyler Apache Belles Drill Team, and Apache Band Pete Fountain & Al Hirt
1977: Los Angeles Unified All-City Band & Audience card stunt
1976: Up with People
1975: Mercer Ellington & Grambling State University Marching Band
1974: University of Texas Longhorn Band and Judy Mallett
1973: University of Michigan Marching Band & Woody Herman & Andy Williams
1972: Ella Fitzgerald, Carol Channing, Al Hirt, USAFA Cadet Chorale, & U.S. Marine Corps Drill Team
1971: Southeast Missouri State Marching Band
1970: Marguerite Piazza, Doc Severinsen, Al Hirt, Lionel Hampton Southern University Marching Band
1969: Florida A&M University and Miami area High School Bands
1968: Grambling State University Marching Band
1967: The Three Stooges, University of Arizona Symphonic Marching Band & Grambling State University Marching Band, Al Hirt, Anaheim High School Drill Team and Flag Girls