AKRON, Ohio — The family of a murdered Akron girl called for justice and change during a march Friday afternoon.
Relatives of 8-year-old Mikayla Pickett organized a "Save Our Children" walk, which started on Roselle Avenue, where the girl was killed, and ended in front Akron City Hall.
Marchers repeatedly chanted "Stop the violence! Put the guns down!"
The girl died last month after shots were fired at a backyard birthday party. The homicide remains unsolved.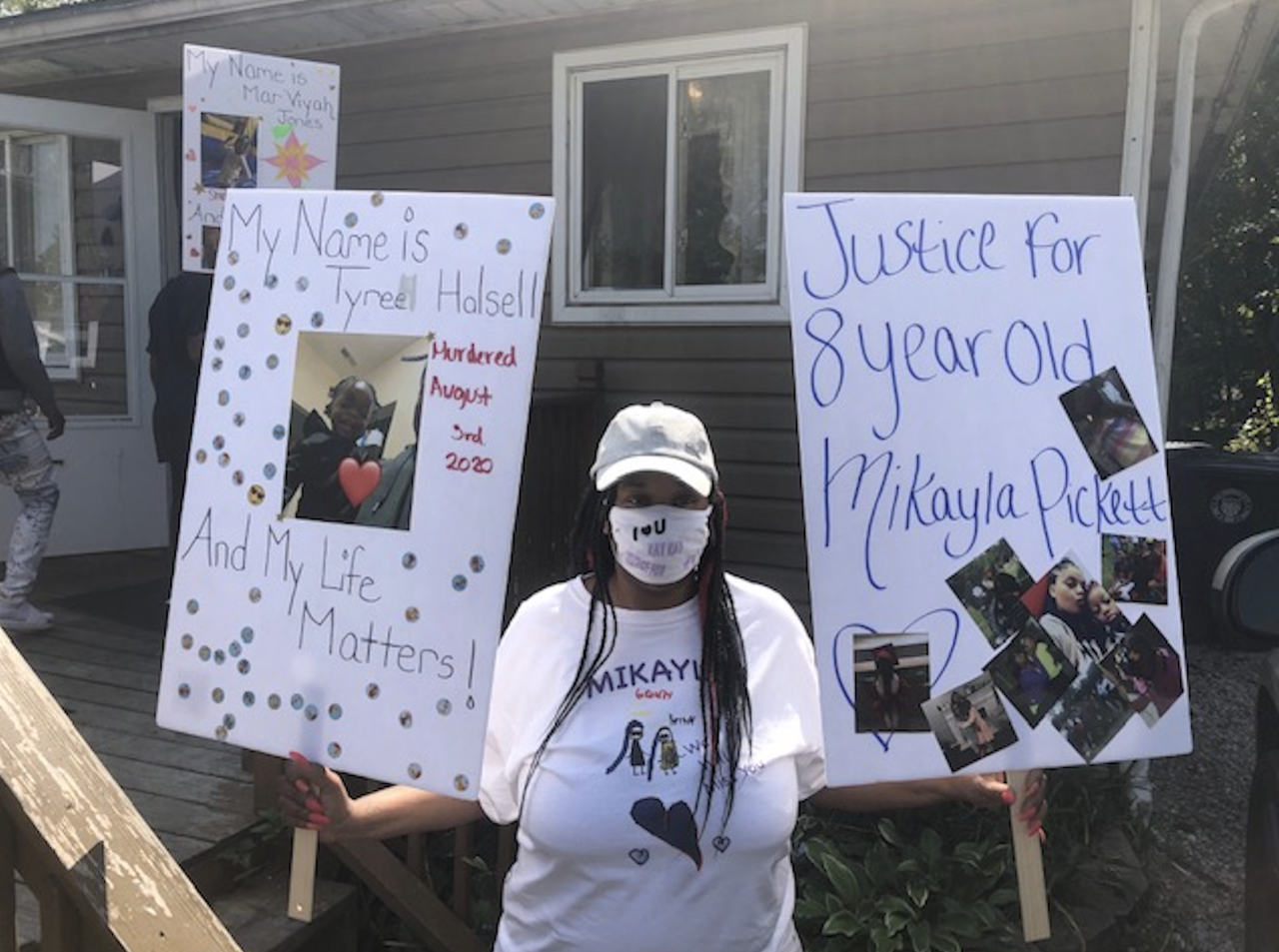 "We want them to find Mikayla's killer. We want justice for Mikayla. We want him behind bars," said the girl's mother, Shoskamika Risper.
The group also called for justice for the murders of other children. There have been 37 murders in Akron in 2020. Six of the victims were 18-years-old or younger. The youngest victim was 20-months-old.
"The lives of these little ones, they really do matter. It's just so heartbreaking," said Pastor Roderick Pounds from Second Baptist Church.
When the marchers arrived at Akron City Hall, there were police officers and other city officials waiting outside of the entrance.
Lt. Michael Miller used a megaphone and told the family, "We are working every day around the clock to solve her murder."
Mikayla's loved ones are calling for change beyond putting extra police officers in neighborhoods.
"We just want the mayor, the governor, everybody just to step up and come out in the community more. It's time to make a change," said the girl's cousin, Alexis Payne.
Pastor Pounds, along with Pastor Jaland Finney, believe there needs to more of an investment in the inner city. They feel more community recreation centers and activities should be available to younger people.
"When you're running the street with no purpose, no destination and no purpose, it's a breeding ground for trouble," Finney said.
After the murder of another child, 6-year-old Mir'Viyah Jones, Mayor Dan Horrigan released a statement this week indicating he was working to deploy new strategies to interrupt the cycle of shootings and build on the work of the Youth Violence Prevention Plan.
"We hope to have more to announce on these developments in the coming weeks," Horrigan said.
Horrigan issued the following statement in regards to Friday's march:
There is nothing I can say that will ever heal the wounds left behind at the loss of this innocent young life. My family and I grieve deeply alongside MiKayla's family, loved ones, and community. In our office, we have spoken her name and looked at her photos, having many conversations about what more can be done to not only bring justice but also healing to our City. As Mayor, gun violence is the number one issue that keeps me up at night.

This is a community-wide problem that demands community-wide solutions. I understand the critical importance of recreational opportunities and positive pathways for our young people – something the family mentioned today. That is why I have prioritized investments in our parks and recreational assets, and will continue to do so. Just recently, we returned the hoops to our outdoor basketball courts and announced plans to safely reopen our community centers to allow our residents to once again utilize these spaces, which truly belong the community. We restarted Late Night Basketball, and are committing millions to revitalize Summit Lake, among many other programs and investments.

I know that our APD detectives are diligently investigating this case and will do everything in their power to bring the persons responsible to justice. May the deaths of MiKayla, Mar'viyah, Tyree, Azeria, Ty'Leia, and Na'Kia be a wake-up call for us all. We need to stand together as a community and say that we will not lose another child to gun violence this year. The lives of the victim's families are forever shattered, and so are the lives of those responsible, as they ultimately face the full extent of criminal prosecution. I will continue to explore creative partnerships and solutions that will bring an end to the senseless violence, working closely with the communities most affected.
RELATED: Kids in the crossfire: Akron community reeling after 6 children killed in the last 4 months