CLEVELAND — Dog owners in Downtown Cleveland will soon have a new spot to hangout with their four-legged friend as Bark & Brew prepares to open its doors this summer.
Tim Clymer and his partner Zach Walker are the owners of Barklyn Heights Dog Daycare and Boarding and decided to expand their ventures into downtown, and it's been a long time coming.
"It's really been a passion of ours to pursue and we've been looking for buildings for three or four years to try and make this happen," Clymer said. "We just found this site downtown and it's a neat old 80-100-year-old building. Really the layout, the space, the character, it all came together to work for this concept."
That concept starts with a dog daycare and boarding aspect, but has a unique twist as well.
Bark & Brew will also feature an indoor dog park for Clevelanders to bring their dogs to play, while also offering a doggy splash pad and pool—and for the humans, a self-pour bar and rooftop patio.
Clymer said the concept of an indoor dog park/bar exists in other cities, but they wanted to bring that unique experience right here to Cleveland.
"Our weather can be terrible here. People in, near and around downtown, while the streets are walkable, we don't really have a lot of dog parks so the concept of an indoor dog park seemed to be something we would like for ourselves and our dog," Clymer said. "We think it'd be something that would catch on for a lot of people who are maybe living in apartments or smaller homes with not much of a yard."
Bark & Brew will feature the self-pour wall that will have beer, wine and they hope mixed drinks on those taps.
Clymer said they'd like to keep it as local as possible and feature a selection of Cleveland brews, while also featuring some general staples to keep the selection vast.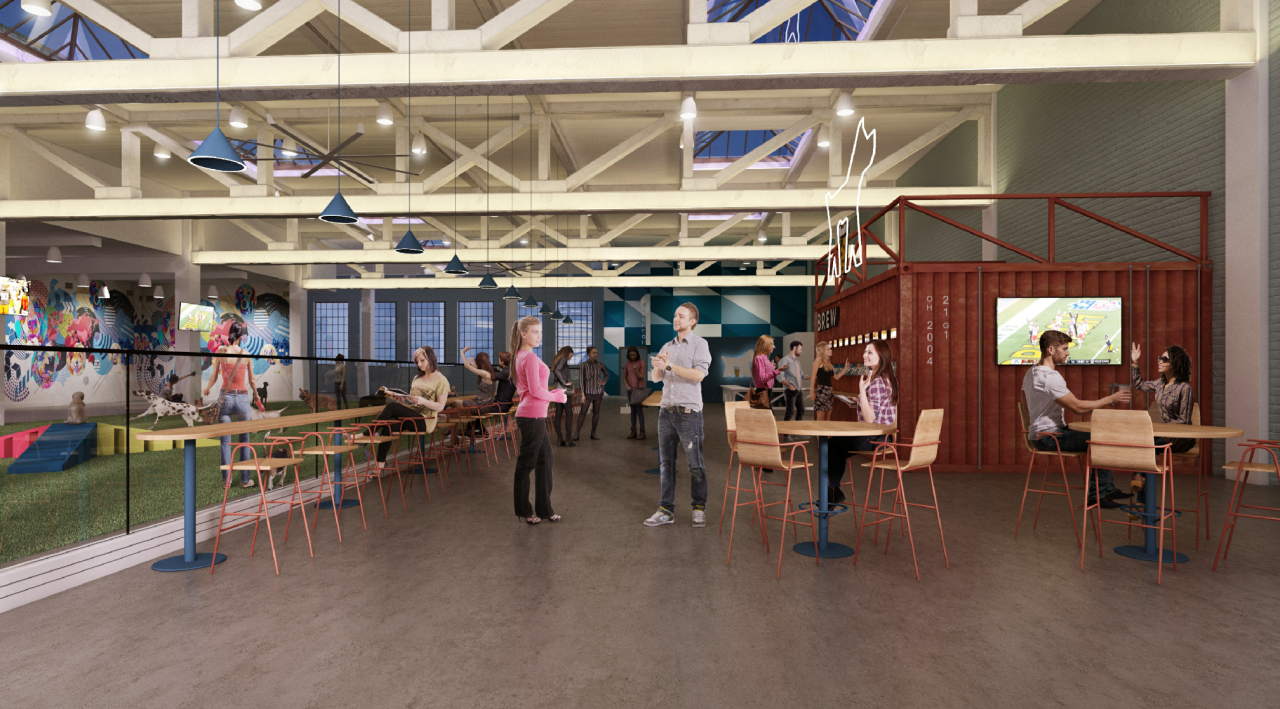 While the planning is still ongoing, Clymer said the general idea is to be open to the public with a process for the dogs attending the indoor park to register with their system.
Dogs will be required to have proof of vaccination ahead of time and an admission charge per dog will be issued to attend to the park, while there will be no cover charge for their owners or friends, or the general public.
Bark & Brew is set to open this summer and that opening will likely happen in phases, Clymer said.
He hopes to have the dog daycare and swim area open around May, while the indoor dog park and bar concept is expected to open later in the summer, possibly around August.
Clymer said they're working as hard as they can to open the indoor dog park and bar as quickly as possible, and when they are able to open it seems like they'll have their fair share of business after receiving a passionate reception on social media.
Bark & Brews will be located on the eastern side of Downtown Cleveland and more details will be announced as the dog park and bar gets closer to opening.
To learn more about Bark & Brews, click here.