WILLOUGHBY, Ohio — After volunteering with Meals on Wheels for quite some time, Bruce Wilson took it upon himself to address a problem he kept seeing over and over again on his route: homes with little or no address number signage.
"There's no address on that house, there's no address on that house," he said while driving through Willoughby with News 5. "If you do an informal tally of homes that don't have a visible address, it's definitely over 50%."
It didn't take long for his dining room to become a makeshift factory line, where Wilson assembles the bold, black and white signs, which are paid for with the help of the Mentor Rotary Club.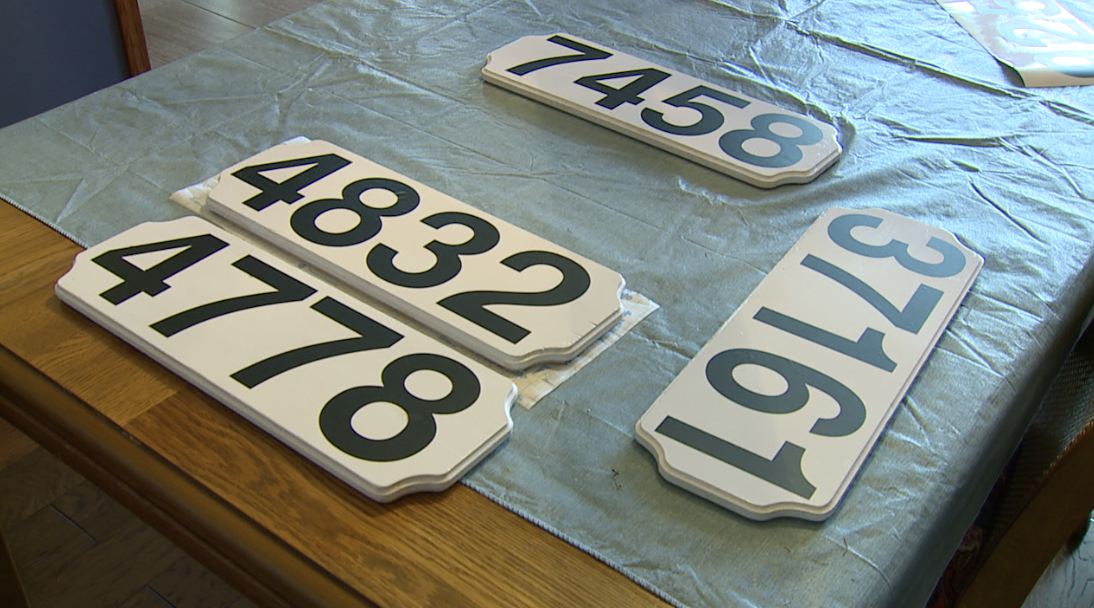 "You don't think about it," Wilson said. "You're never looking for your home. A lot of us put [the address numbers] on our mailbox, but we don't realize someone unfamiliar may have trouble finding it. To me, the most important thing is in the middle of night if I need to call for help a first responder can find my home in minutes and not knock on the wrong door."
Wilson said he buys the wood plaques and spray paints them in his backyard and then attaches the numbers.
Before long, he began accepting nominations for homes from other area drivers who encountered the same issue.
After a home is nominated, Wilson said he will reach out to the homeowner and discuss if it's something they would like.
"Meals on Wheels drivers are nominating clients and Laketran drivers are nominating clients," Wilson said. "We're helping seniors and veterans and anyone in Lake County."
Among those receiving a plaque is 84-year-old Eva Bruck, who developed a sense of humor around her delivery driver mishaps over the past 55 years at her Willoughby home.
"A lot of times cars would go by," she explained. "I run next door and get the packages and bring them over here."
A visibly bold gesture for those who need it most.
"I think it's going to look good here," Bruck smiled.
To nominate a homeowner for a free address plaque, you're asked to reach out to the Mentor Rotary Club.
Clay LePard is a special projects reporter at News 5 Cleveland. Follow him on Twitter @ClayLePard or on Facebook Clay LePard News 5.
Download the News 5 Cleveland app now for more stories from us, plus alerts on major news, the latest weather forecast, traffic information and much more. Download now on your Apple device here, and your Android device here.
You can also catch News 5 Cleveland on Roku, Apple TV, Amazon Fire TV, YouTube TV, DIRECTV NOW, Hulu Live and more. We're also on Amazon Alexa devices. Learn more about our streaming options here.