CLEVELAND — The number of Ohioans using medicinal marijuana legally through the state's regulated marketplace jumped 20% in the last year.
That amounts to 163,000 registered patients actively buying cannabis, or about 30,000 more people compared to the start of 2021, according to data from the Ohio Medical Marijuana Control Program.
In addition, more than 70 provisional dispensary licenses were awarded in May, more than doubling the number of dispensaries across the state.
In December, The Landing dispensary opened in Cleveland's South Flats neighborhood.
"It's been a lot of activity but we're happy to have landed "The Landing" in Cleveland, Firelands Scientific CEO Jeff McCourt said. "This is the home flagship dispensary."
The Landing is the first dispensary to open as part of the state's second round of licenses awarded. To see a list of all locations awarded a provisional dispensary license, click here.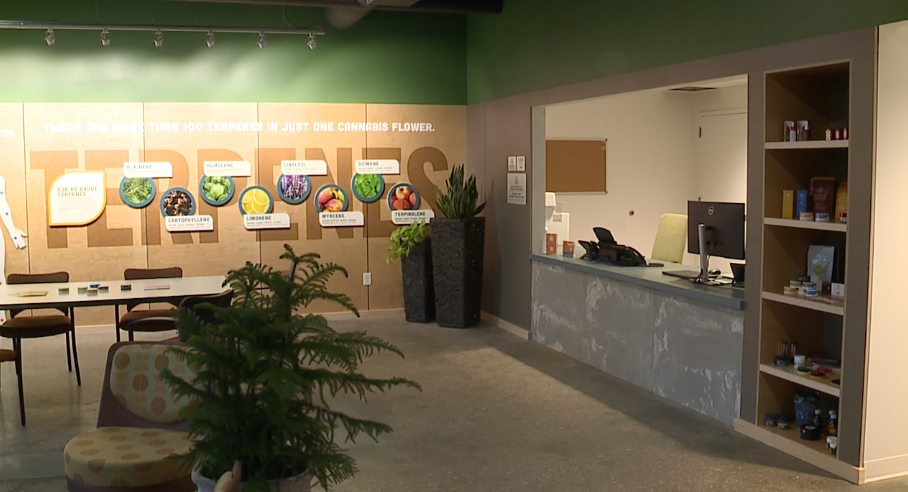 "There's been a pretty significant bottleneck in terms of retail access so people who are patients and considering being patients are finding a lot more access points," McCourt explained.
The Ohio Medical Marijuana Control Program was created by House Bill 523 in 2016 and the first medical marijuana sales happened in January 2019. On the first day of medical marijuana sales, only four dispensaries were approved to sell to patients.
Since then, there has been a reported $1.13 billion in sales across the state, with an average of about $10 million in product sales every week.
Will recreational marijuana be legalized in 2023?
"It is not a question of if marijuana will be legalized for all adults, it's a question of how it will be legalized for all adults," attorney Tom Haren explained.
Haren serves as spokesperson for the "Coalition to Regulate Marijuana like Alcohol," an effort which would legalize recreational marijuana across the state for those 21 and older.
"It'll be safe, tested and taxed and an alternative to the unregulated market," Haren added.
A tax of 10% that Haren told News 5 can generate anywhere around $400 million in revenue for the state each year.
The coalition presented an initiative to lawmakers in Columbus, and if the legislature doesn't pass its bill by the spring, Haren said plans are in place to submit enough signatures to put the idea on the ballot for voters this November.
This is not a constitutional amendment, but an initiated statute that would change the Ohio Revised Code to legalize and regulate weed for any adult 21 and older. It would also allow for cultivation and possession of up to 2.5 ounces.
That's on top of two similar bills in Columbus which held their first hearings in December, all hoping to achieve the same goal.
"We've also seen through the medical program that there are a lot of very legitimate uses for marijuana as a home remedy," Rep. Jamie Callender (R-Concord) explained.
RELATED: Ohio lawmakers try to convince GOP to legalize marijuana, but may have to wait for future elections
Callender gave testimony on House Bill 498, which would extend Ohio's current medical marijuana program to include non-medicinal adult use. He and state Rep. Ron Ferguson (R-Wintersville) had been waiting for a hearing for more than one year.
"For recreational weed to have stores on every corner, it just — it's not a good precedent," Rep. Shane Wilkin (R-Hillsboro) said. "I think the cons outweigh the pros in recreational."
"I think you're going to see a lot of energy over the next over the coming months," Rep. Casey Weinstein (D-Hudson), a primary sponsor on the similar House Bill 628, said.
Back at The Landing, Jeff McCourt told News 5 their focus remains on what's in front of them right now: medical marijuana.
Going into 2023, he estimates patients will see a drop in prices as more dispensaries join the market.
"There's going to be a pretty dramatic expansion in the next year," he said.
To view a list of open Ohio active medical marijuana dispensaries, click here.
Clay LePard is a special projects reporter at News 5 Cleveland. Follow him on Twitter @ClayLePard or on Facebook Clay LePard News 5.
Download the News 5 Cleveland app now for more stories from us, plus alerts on major news, the latest weather forecast, traffic information and much more. Download now on your Apple device here, and your Android device here.
You can also catch News 5 Cleveland on Roku, Apple TV, Amazon Fire TV, YouTube TV, DIRECTV NOW, Hulu Live and more. We're also on Amazon Alexa devices. Learn more about our streaming options here.