Independent bookstores continue to thrive in an age of online shopping and digital books
Bookstores in Cleveland continue to thrive
Bookstores used to be regular fixtures in communities, as American as conveniences stores and diners. Many have closed their doors, while continue to thrive in an era when the very definition of "books" has changed.
Think Kindle, Nook, even Audible.com.
Here in Cleveland, a number of bookstores remain standing, providing actual books and experiences that the digital age can't diminish.
Old Erie Street Bookstore at 2128 East 9th Street

Mark Stueve, the owner of Old Erie Street Books, has been around before downtown exploded into what it is now. The store is one of the only stores where customers have to make an appointment and something in mind of what they're looking for.
Photo by: Kaylyn Hlavaty
Loganberry Books storefront. Driving down Larchmere Avenue, one can't miss the grape purple painted bricks. Once you're inside, it's all about the books.
Photo by: Kaylyn Hlavaty
Harriet Logan, the owner of Loganberry books, stands with her cat named Otis. He is considered the official greeter of Loganberry Books. Customers can usually find Harriet and Logan in the 'Sanctuary' room where she houses collectible books and artwork.
Photo by: Kaylyn Hlavaty
Mac Backs Books: 1820 Coventry Road Cleveland Heights

216-321-2655
Mac Backs Books: 1820 Coventry Road Cleveland Heights

Owner Suzanne DeGaetano has owned this Cleveland Heights gem for over 20 years.

216-321-2655
Loganberry Books: 13015 Larchmere Avenue

216-795-9800
Photo by: Kaylyn Hlavaty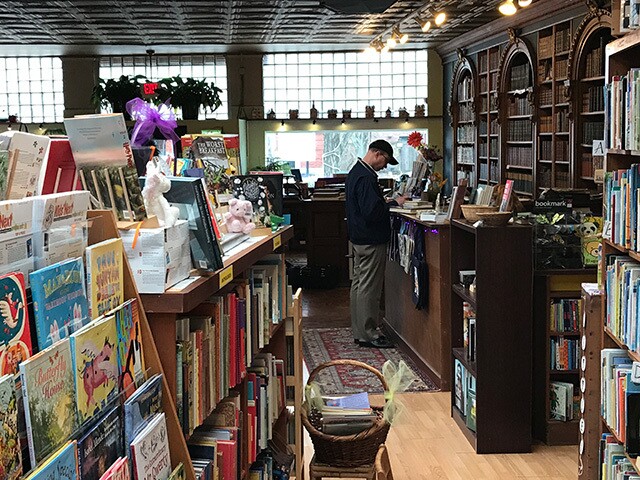 Loganberry Books: 13015 Larchmere Avenue

216-795-9800
Photo by: Kaylyn Hlavaty
Loganberry Books: 13015 Larchmere Avenue

216-795-9800
Photo by: Kaylyn Hlavaty
Loganberry Books: 13015 Larchmere Avenue

216-795-9800
Photo by: Kaylyn Hlavaty
Loganberry Books: 13015 Larchmere Avenue Cleveland, Ohio

In the background sit the original wall of books that was is a former showroom building.

216-795-9800
Photo by: Kaylyn Hlavaty
Loganberry Books: 13015 Larchmere Avenue

216-795-9800
Photo by: Kaylyn Hlavaty
Loganberry Books: 13015 Larchmere Avenue

The store boasts over 100,000 books ranging from children's book, gardening, to Rustbelt specific authors.

216-795-9800
Photo by: Kaylyn Hlavaty