PHOTO GALLERY: 1977 Lyndhurst car bombing that killed notorious mobster Danny Greene
Forty-one years ago on October 6, 1977, notorious Irish American mobster, Danny Greene was killed in a car bomb outside his dentist office. Clevelanders may be familiar with the movie "Kill the Irishman." Those who lived in the city in the 1970s remember him well. He was involved in a mob war with factions of the Italian mafia that led to more than 30 bombings across the city. The violence became so frequent, a local newspaper coined Cleveland as "Bomb City, USA."

Body of Danny Greene loaded into ambulance in 1977— Cleveland Memory Project.

15805 Waterloo Rd. Home destroyed by bomb, 4 a.m., 5-12-75. All that remains -- Rackets figure Danny Greene's 1975 Lincoln is shown parked behind his Waterloo Rd. business-residence building. Police inspected the car gingerly after the bombing, explaining that there were signs of forced entry to the car leading them to frea a bomb might have benn placed in it. No bomb was found.— Cleveland Memory Project.

Damaged by blast - Buildings flanking that was occupied by Danny Greene were damaged severly by today's explosion. Here, some neighbors gather in front of a barber shop where windows were shattered. 15805 Waterloo Rd. on May 12, 1975.— Cleveland Memory Project.

Aftermath of bomb that killed Danny Greene.— Cleveland Memory Project.

Store adjacent to business - apartment belong to Danny Greene which was demolished by bomb 5/12/75.— Cleveland Memory Project.

Bombing of Danny Greene's place of business and apartment on S. Waterloo Rd.— Cleveland Memory Project.

Brainard Place, Lyndhurst. scene of Danny Greene bombing— Cleveland Memory Project.

Retrieving property - Danny Greene's nephew, who declined to give his name, and Greene's son are shown in this photo as they arrived early today to retrieve property from the trunk of Greene's 1975 auto. Watching are Cleveland detectives Sgt. John Andes (behind trunk lid) and Elmer Roubal— Cleveland Memory Project.

President Daniel J. Greene of Longshoremans's Local 317 at U.S. Attorney's Office—Cleveland Memory Project

Mrs. Dan Greene with Sharon, 8 (left), and Colleen, 7."-- photo verso. Mrs. Nancy Greene points to bullet holes left in the wall of the Greene residence after shots were fired while the family was inside.— Cleveland Memory Project.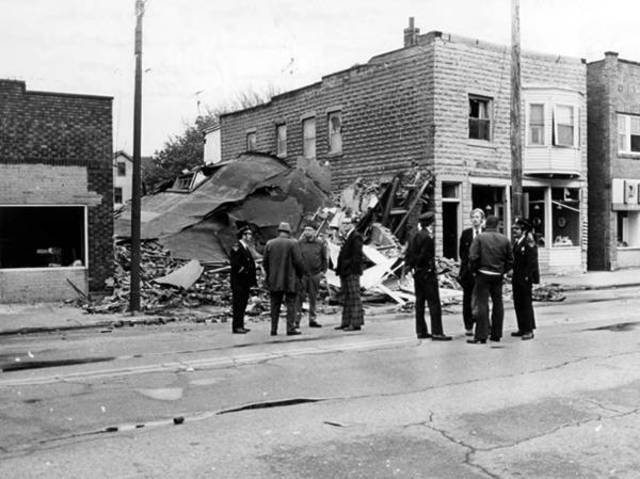 General view of area where Danny Greene's apartment (2nd floor) and business (1st floor) was bombed on S. Waterloo Rd.— Cleveland Memory Project.

Danny Greene's car after bomb explosion. Car is at 2nd district police station. Patrolman Joe Sadie is in pix. Greene's car ripped open by bomb -- The force of the bomb tossed into the open window of Daniel J. Greene's 1968 Oldsmobile is shown by the way the roof was peeled back. Greene, deposed Longshoremen's Union leader convicted of embezzlement in 1966, escaped with relativelyminor injuries.— Cleveland Memory Project.


Danny Greene killed when bomb in Nova (center) exploded as he was entering his Lincoln (left).— Clevleand Memory Project

"Danny Greene's body between cars"— Cleveland Memory Project

Leon Ponikvar (L) and Dan Greene (R) enter Fed Courtroom