CLEVELAND — For small businesses, the past year has provided its fair share of challenges. Owners of many businesses have been forced to make choices and sacrifices in order to keep pushing forward. During Women's History Month News 5 is shedding light on women-owned businesses making a difference in their community.
Balance Cheer & Gymnastics
In Warrensville Heights, Kanisha Rounsaville is laying the foundation of hard work for young girls in her community. She is the owner of Balance Cheer & Gymnastics. Since she was two years old she has been flipping and tumbling around a gym.
She said growing up she knew someday she would open her own gym to help the youth in her neighborhood.
"Most of our students are predominantly black so it's an honor to give back to offer them the opportunity that may not be there otherwise," Rounsaville said.
The 30-year-old owner said the last year has tested her but believes it has made her a stronger person.
"During the pandemic of course, there's been highs, lows," she said. "We've actually tripled our enrollment so that's a blessing."
Beyond providing a place for young athletes to stretch and tumble, Rounsaville said she has a major responsibility in Northeast Ohio.
"To my knowledge, I am the only African-American owner of a gymnastic and cheerleading facility in Northeast Ohio," she said. "There's a representation of black girls can achieve anything they want to do."
Rounsaville said she understands her students not only look to her for coaching advice, but for life guidance as well. And that's a job she doesn't take lightly.
"I think with owning this gym, the girls see me, they see me coaching, they see me owning, they see me doing everything and they too can realize if Miss Kanisha can do it, I can too," she said.
Currently, her Warrensville Heights gym offers a variety of classes but Rounsaville said she has plans to expand her business to reach more young girls across the region.
Wild Flour Bakery
In Rocky River, Sue Johansen is another woman working to make a difference in her community. She is the owner of Wild Flour Bakery on Lake Road.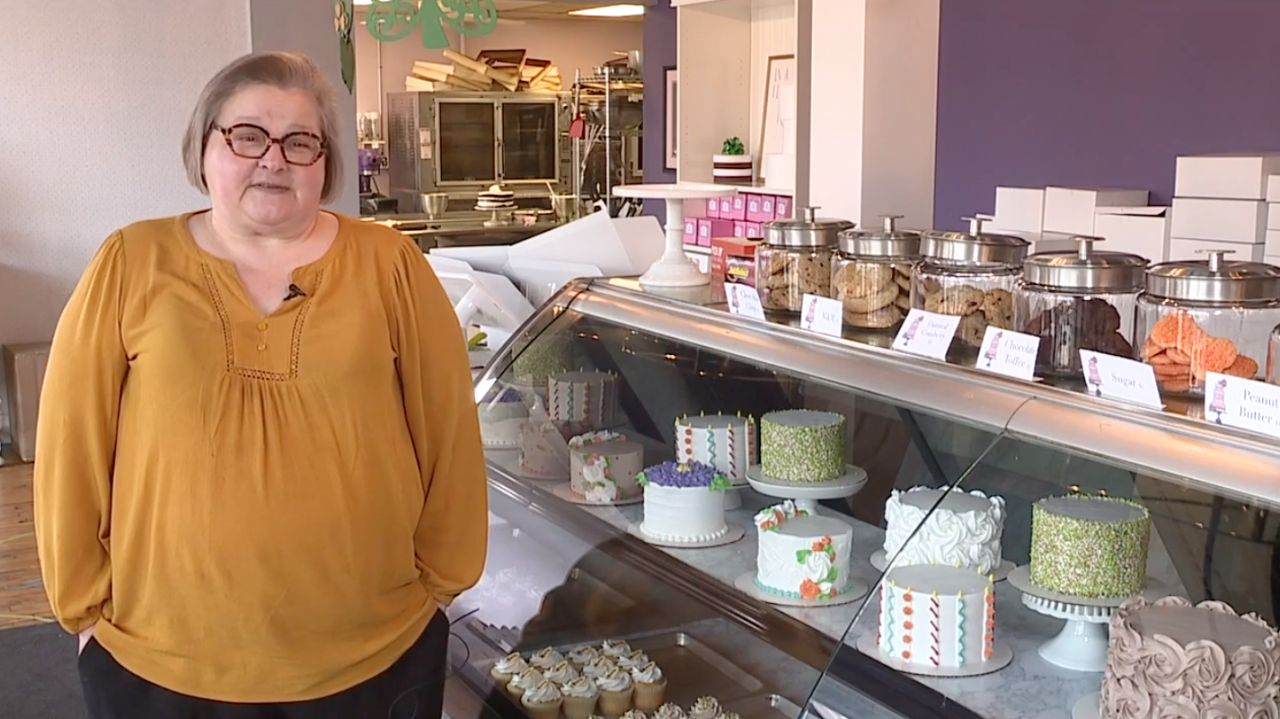 For nearly 27 years she has been helping families celebrate some of life's biggest moments with sweet treats.
"I love what I do. There's nothing else that I would rather do," she said. "This is in my blood. I was meant to do this and I have no training in this. It was a passion of mine."
Her staff is mainly comprised of women and she said she wouldn't have it any other way.
"All different ages as well, so it's a good mix. And everybody's got a mighty fine sense of humor, too," Johansen said.
For Johansen, the past year has been a roller coaster ride of business. With many large events, like weddings, kept to a minimum, they didn't have many of the large orders like they're used to. In 2020, the store closed for nine weeks in total.
"Oh boy, it changed the business drastically for us," she said. "We had to change what we do and how we do and who does what. When we came back parties were very very small, cakes for maybe 6 people. Weddings never ended but they definitely quieted down, maybe we would have one or two a weekend."
But she added - the shutdown gave them time to reflect on what's important.
"It gave us the opportunity to redefine who were are and what we do. At heart I have always wanted to be a neighborhood bakery," she said.
But Johansen said she believes the worst is behind us as business begins to pick up once again.
"This will not be the year that it was in 2019, but we're getting back there so that next year we can be back to where we were before this all started."
She thanked and credited the Rocky River community for their support.