CLEVELAND — Cleveland loves baseball, and starting on July 5, visitors from all over the world will journey here for the 2019 Major League Baseball All-Star Game. Plenty of events and competitions have been scheduled, but visitors will no doubt want to take in some of the city's sights and bites. We've put together this guide so you can go home from seeing the All-Star Game to tell everyone you saw more than just baseball in a city that so often pleasantly surprises out-of-towners.
If you want the basics...
Everyone knows the Rock and Roll Hall of Fame, and no visit downtown is complete without hitting Playhouse Square or making a stop at the world-renowned Cleveland Museum of Art.
Buf if you want to get off the beaten path a bit...
The West Side Market
Inside the walls of this more than 100-year-old cultural and food mecca, there's a road map of every food you can think of. Think of it as a trip across the world showcasing the best in just one building. That's the West Side Market. Featuring more than 100 vendors of ethnic diversity, you'll find meats, vegetables, baked goods, dairy and cheese products and more. Try something, or everything, and even bring some food back from this Cleveland mainstay. Everyone knows food is the new souvenir, so swap out a T-shirt for some artisan bread, baked goods and locally roasted coffee.
Visit at : 1979 W 25th St, Cleveland, OH 44113
Murals
The murals across the city are a reflection of Cleveland's growing art scene. There's so many murals, in fact, that we have suggested some of the best to take a photo with, because what's a trip without some pictures of art for your Instagram feed?
Prince Mural: In the city of Rock 'n' Roll, it's only right that we honor the legacy of Prince. Created by local artist Glen Infante, the mural of Prince eating a doughnut is located right across the street from the Love Doves.
Visit the Prince mural at: 1351 Main Ave., Cleveland, OH 44113
Love Doves: Created by artists Erin Guido and Joe Lanzilotta, this mural was big deal for Cleveland as it was along with four other cities to chosen for Instagram's #kindcomments mural, which coincided with Pride Month.
Visit the Love Doves at: West Shoreway retaining wall at West 25th Street (Corner of W 25th and Main, across from Saint Malachi School)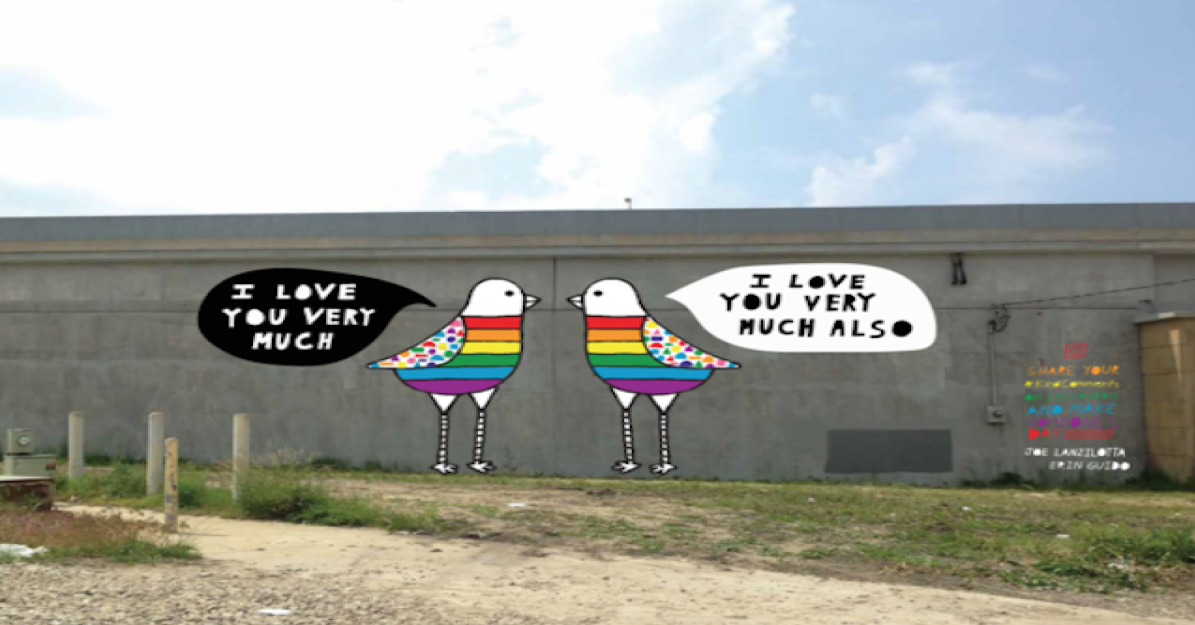 Greetings from Cleveland—This mural is one of the more iconic ones in Cleveland's Ohio City neighborhood. Created by Muralist Victor Ving and photographer Lisa Beggs, it's one of 37 different murals in 19 states. Send your friends and family a proper greeting from Cleveland with this colorful mural.
Visit the mural at: 2549 Chatham Ave, Cleveland, OH 44113
Where to take a Picture with Cleveland Script Signs
While you're in Cleveland, you're going want to stop by the one of the six Cleveland script signs, each one situated with a stunning backdrop of the city and Lake Erie.
Visit one of them at the following locations:
Tremont— 1502 Abbey Ave., Cleveland, 44113
Edgewater Park— 6500 Cleveland Memorial Shoreway, Cleveland, 44102
North Coast Harbor— East 9th Street Pier, Cleveland, 44114
Euclid Beach— 16301 Lakeshore Blvd., Cleveland, 44110
Cleveland Hopkins— 5300 Riverside Dr., Cleveland, 44135
The Foundry— 1831 Columbus Rd., Cleveland, 44113
Cleveland Cultural Gardens
Just a short drive from downtown or walk from Cleveland's University Circle, the Cleveland Cultural Gardens are unique to the world, featuring more than 31 gardens designed and cultivated by cultural and nationality groups. Founded in 1916, the gardens offer a place to get away from the crowds near the ballpark for some relaxation, a walk or a bike ride.
How to get there: From I-90, take the Martin Luther King Jr. Blvd exit. Once you exit the freeway, you'll be on MLK where the first cultural garden is located.
Take a ride: Cedar Point Amusement Park
If you're a thrill seeker, just a little more than an hour drive from Cleveland is the roller coaster capital of the world. Spend a day riding roller coasters like the Steel Vengeance and the Top Thrill Dragster before cooling off at the waterpark.
Visit: One Cedar Point Drive, Sandusky, Ohio 44870
The Coolest Grocery Store in All The Land
A grocery...as a destination?! Yes, trust us on this one. Inside the Cleveland Trust Company, there's a hidden grocery store. Cleveland-based grocer Heinen's took over the space in 2015. On the corner of Euclid Avenue and East 9th Street, you can shop, eat and drink in the same space where millionaires once did their banking. The interior features glorious views with a rotunda reaching 85 feet in height, with stained glass panels 61 feet in diameter. High above the main floor are a series of 13 murals reminiscence of the Italian Renaissance. Even a Hamilton cast member was in awe about this hidden gem, so much so, he couldn't believe not a single person told him about it. So now, we are telling you.
Visit at: 900 Euclid Ave, Cleveland, OH 44115
Cleveland's Little Italy neighborhood
A sacred cultural haven where old-school Italian bakeries and cafes, pizzerias and sophisticated trattorias welcome visitors with the old-world charm in a quaint area of cobbled streets within walking distance from University Circle, home to our world-famous symphony and universities. After you grab a big bowl of spaghetti or a slice of pizza the size of your head, sit down for a cannoli and espresso before strolling around again to see the numerous art galleries, cigar and wine shops.
Visit the neighborhood: 121001 Mayfield Rd, Cleveland, OH 44106
America's first Indoor Shopping Center
Nicknamed "Cleveland Crystal Palace," The Arcade Cleveland has been a city landmark since its opening in 1890 as the first indoor shopping center in America. Financed by Cleveland's most esteemed businessmen, including John D. Rockefeller and Louis Severance, features a picture-worthy glass ceiling in this multi-level historic jewel. Today, there's a food court, boutique retail and fine dining.
Visit The Arcade: 401 Euclid Ave., Cleveland, OH 44114
Where to eat and drink
Watching baseball works up an appetite, and one thing Cleveland does right is food. If you want to get away from the hustle and bustle of the bars and restaurants near the ballpark, you should dig in at some of these great local joints.
Felice Urban Café: Situated in a 1910, three-story Victorian home offers eclectic, contemporary American food with locally sourced ingredients. Not only will you feel at home at this family-owned restaurant, but you will take a culinary journey tasting ingredients that completely transform, from cauliflower as the main star in tacos and Brussels sprouts that go to another level with roasted apples and to-die for fig yogurt sauce to a mac and cheese with grape jam and a touch of spiciness with added chorizo. If sitting inside isn't your thing, there's a patio offering a relaxed atmosphere with a touch of an up-scale vibe and a shed that's converted into bar.
Visit Felice at: 12502 Larchmere Blvd, Cleveland, OH 44120
Fat Cats: It's neighborhood gem located in the heart of Tremont, just minutes from downtown Cleveland. Friendly staffers greet guests with a menu perfect for any appetite— vegan options, vegetarian, a bit of Italian and American and everything in between. Each dish will leave you begging for seconds and likely folding to get those seconds. And let's talk about their small plates—a great way to eat and try a lot of dishes to share with your friends. If you come to this place from Monday through Friday, make sure you stop for Happy Hour, you won't regret it.
Visit Fat Cats here: 2061 West 10th St, Cleveland, OH 44113
The Vault at the Metropolitan 9: Millionaires kept their wealth and most-prized possessions here. Now, visitors sit inside the historical bank vaults with a drink in hand where the wealth was stacked. Step inside the The Vault underneath the historic Cleveland Trust Rotunda Building, where Heinen's now occupies the space. The upscale cocktail lounge offers some of the best sips from expert mixologists. Each cocktail on the menu pays homage to Cleveland's deep roots, with names like the Cleveland Trust, The Corner of Euclid and Bourbon, Millionaire's Row and General Moses, after the city's founder, among many others. Grab a drink and say cheers to the past while celebrating the present.
Go down under to the vaults at: 2017 E 9th Street, Cleveland, OH 44115
Happy Dog: Baseball and hot dogs go hand in hand, so it makes sense you stop one of the best places in The Land to get your hot dog with all the fixings, and we mean ALL the fixings. From white beer cheese fondue and pimento mac and cheese to homestyle coleslaw and vegan mango chutney. There's even a vegan hot dog for those who don't eat meat. This place should be on your list after the game. You can thank us later.
Visit Happy Dog here: 5801 Detroit Ave, Cleveland, OH 44102
Brewnuts for breakfast: If you haven't heard of Brewnuts, now you have. This doughnut destination in Cleveland's Gordon Square neighborhood makes the fried dough confection in a wide array of flavors using craft beer from local breweries. Each day there's a mouth-watering lineup to choose from, along with some draft beer options, so now you can have your doughnut and craft beer, too, all day long.
Visit Brewnuts here: 6501 Detroit Road, Cleveland, OH 44102
RELATED: Everything you need to know about the 2019 MLB All-Star Game