CANTON, Ohio — Goodwill Industries of Greater Cleveland & East Central Ohio (GIGCECO) is closing its stores and donation centers Wednesday after Goodwill officials received several threats from an unknown individual that were sent to three different Stark County locations Tuesday.
Since receiving the threats, Goodwill closed Canton, Cleveland and Akron area stores Tuesday and will keep all stores and donation centers closed Wednesday while law enforcement investigates the threats.
A spokesperson for Goodwill said an anonymous phone call and two emails were received at its regional headquarters as well as store on Tuesday afternoon.
"Right now, everyone is safe and that's what really matters to us," Maureen Ater, Vice President of marketing and development for Goodwill Industries of Greater Cleveland and East Central Ohio, said. "The threats seemed the same between the phone call and the emails. We ended up receiving another email after that. It dealt with causing harm to individuals at one of our sites."
Ater told News 5 that revenue from the sale of donations at their locations go toward 28 different mission programs in the community such as parenting programs, emergency vouchers, rape crisis centers, and job training for people who disabilities or other barriers to employment.
GIGCECO operates 22 retail stores and five stand-alone donation centers throughout a 10-county territory in Ohio and West Virginia.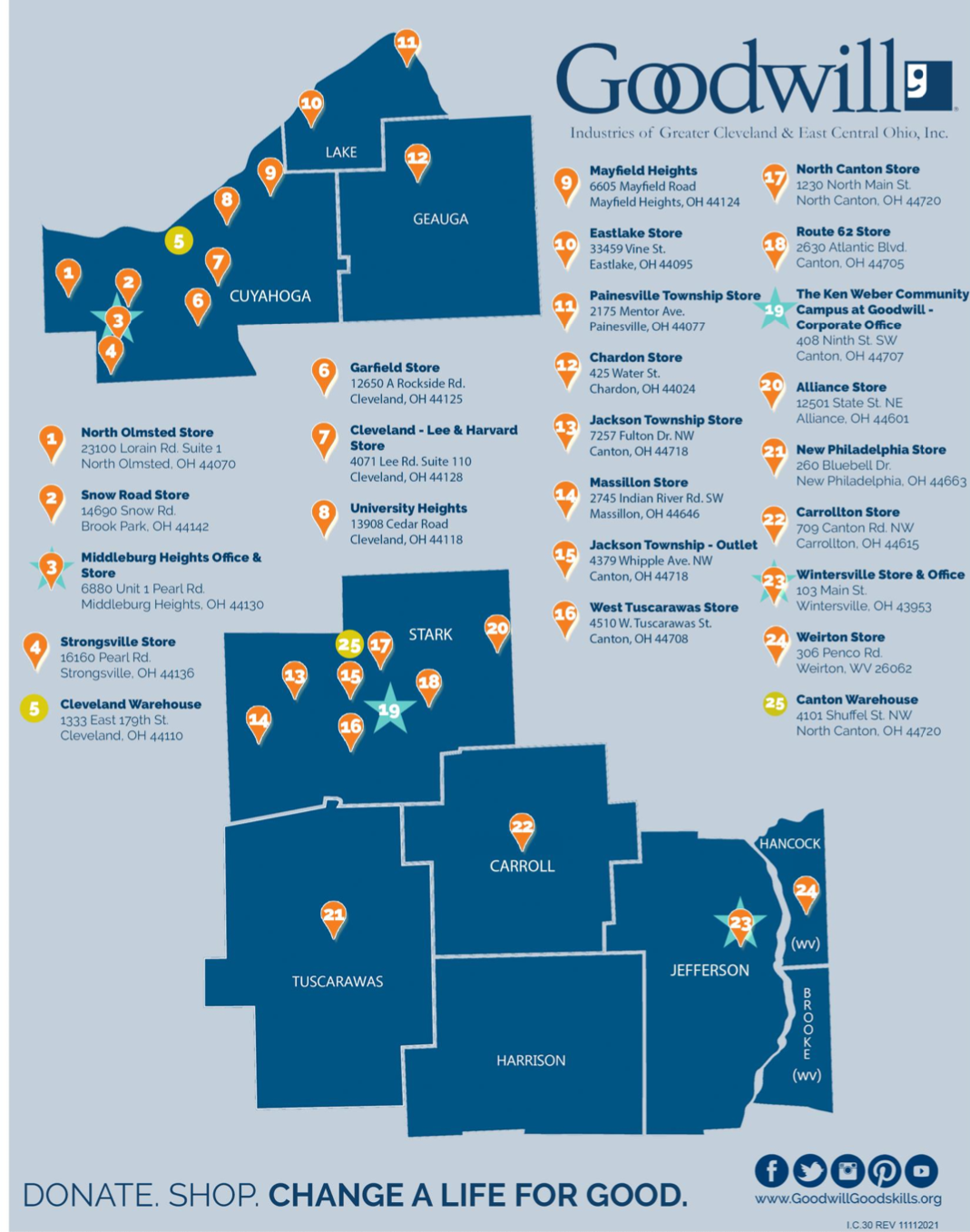 The neighboring Goodwill system in Akron also decided to close its doors Wednesday. The following Akron-area stores are closed:
blue /A GOODWILL BOUTIQUE/

Outlet Store

Akron – 570 E. Waterloo Road.
Retail Stores/Donation Centers
Akron – 570 E. Waterloo Road.
Ashland – 1611 Claremont Ave.
Brunswick – 1733 Pearl Road
Cuyahoga Falls – 1725 State Road.
Kent/Ravenna – 2528 State Route 59
Lakemore – 1500 Canton Rd.
Mansfield/LexMall – 1280 Lexington Ave.
Medina – 3500 Medina Road.
Northfield – 10333 Northfield Road.
Ontario– 2154 W. Fourth St.
Streetsboro – 1703 State Route 303
Tallmadge - 501 South Avenue
Twinsburg – 10735 Ravenna Road.
Wadsworth – 170 Great Oaks Trail
Attended Donation Centers

Akron –420 South Hawkins Ave. (Saint Sebastian Parish, Byrider Hall lot)
Hudson—5381 Darrow Rd. (Behind Regal Cinema parking lot)
"This is an extremely difficult decision that our organization has made, but one that we feel is in the best interest of our team members and the community," said President and CEO Anne Richards. "We appreciate the public's understanding as we navigate this challenging situation."
Ater told News 5 this is usually Goodwill's busiest time of the year and this is the first time they've ever dealt with a threat like this. While several area police departments continue to investigate, Ater asks that everyone hold off on dropping off donations at closed locations.
"This is a time of year where we get a lot of our donations," she said. "We need those donations, but as we're working through this, we're just asking people to hold onto those donations another day or two until we can get those facilities open again."
The Ken Weber Community Campus at Goodwill, home to its headquarters, will remain open with heightened security from Goodwill security officers and the Canton City Police Department.
Goodwill said staff who were scheduled to work Wednesday will be compensated for time missed.
At this time, all Greater Cleveland and East Central Ohio Goodwill stores are set to reopen on Thursday, except those in Stark County. Those Stark County locations are scheduled to reopen on Friday. It's not clear at this time when the Goodwill system in Akron will reopen its stores.
Download the News 5 Cleveland app now for more stories from us, plus alerts on major news, the latest weather forecast, traffic information and much more. Download now on your Apple device here, and your Android device here.
You can also catch News 5 Cleveland on Roku, Apple TV, Amazon Fire TV, YouTube TV, DIRECTV NOW, Hulu Live and more. We're also on Amazon Alexa devices. Learn more about our streaming options here.