CLEVELAND — Come Sunday, thousands of people will descend from all corners of Northeast Ohio to celebrate one of the largest gatherings in Cleveland, known as the St. Patrick's Day parade— a tradition that's been a constant since 1842.


Elevated view of St. Patrick's Day in 1960. Cleveland Memory Project.
City officials will give an update on St. Patrick's Day plans, including traffic, parking and additional information about the parade. The news conference is scheduled to begin at 2 p.m. Watch live below:

Not much has changed in the ways Cleveland celebrates a holiday where everyone seems to find a piece of Irish ancestry in themselves. Lots of green beer. Corned beef sandwiches stacked as high as the Terminal Tower and a parade that makes everyone smile.

Knights of Columbus march down Euclid Ave. in full dress, before thousands who lined the sidewalks to watch this afternoon's sunny St. Patrick's Day parade in 1951. Cleveland Memory Project.
Before you head downtown decked out in your Irish best to join others decked out in a sea of green, here is everything you need to know:
The Parade Route:
This year's theme is Irish Churches of the Diocese of Cleveland. If you plan on seeing the main event, your best bet is to find a spot on Superior Avenue near East 9th Street for the best view. The parade will begin at 2:04 p.m. on Superior Avenue and East 18th Street. It will travel southwest on Superior Avenue to West Roadway before heading northeast on Rockwell Avenue.
Among the marchers include the Irish Civic Association, local law enforcement and the Cleveland Fire Fighters Shamrock Club.

Make sure to plan around the road closures and no parking zones for Sunday's parade and KISS concert:
What will the weather be like?
As of Wednesday afternoon, the luck of the Irish is not with us this weekend. It will be cold and there will be a chance for lake effect snow. Can we say... that's so Cleveland?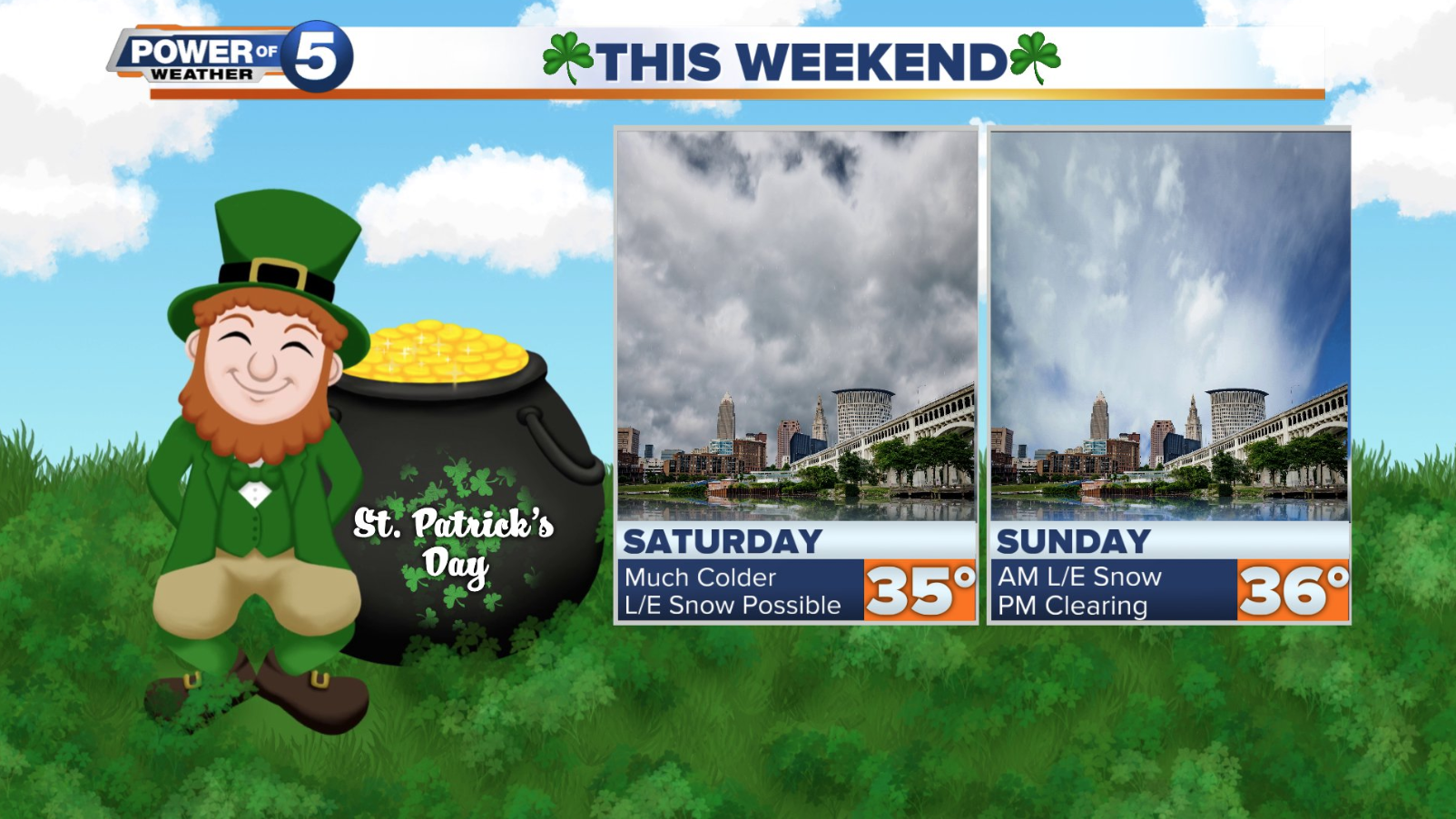 What to wear for St. Patrick's Day
Dress for the weather because luck can change in an instant. Dress in layers, preferably everything green. If you don't dress in green you will be shunned and rightfully so. Download the News 5 app or check out our forecast herebefore you go.
If ye be drinking the booze, ye should not drive
Don't push your Irish luck and drive home after a green beer. Lyft is teaming up with The Cleveland Police Foundation and Jameson to offer $7,000 in free ride credits to provide transportation to and from area locations. Find the code here.

Summit County is also offering free cab rides for anyone too intoxicated to drive,
RTA: Purchase a $5.50 day pass to use on the trains and buses. Buy the all-day pass here.Travelers have the option to ride the Rapid, which will leave frequently throughout heavy demand periods.
To reach RTA by car, select a designated driver.

Break the World Record
Cleveland is known for a lot of things— die-hard sports fans, world-class institutions and more— and on St. Patrick's Day, the city hopes to be known for something else: The world's largest kilt race.
Runners will meet on West 6th Street to participate in the run, where representatives from the Guinness Book of World Records will be on hand to hopefully world a new record for the world. Register here.
Where to chow down on everyone's favorite: the corned beef sandwich
Jake's Bar: 140 Public Square, Cleveland, Ohio 44114
Hours: 24 hours
Danny's Deli: 1658 St Clair Ave NE, Cleveland, Ohio 44114
Hours: 6 a.m. to 1 p.m.
Slyman's Restaurant: 3106 St. Clair Avenue, Cleveland, Ohio 44114
Hours: 6 a.m. to 2 p.m.
Thirsty after chowing down on corned beef? Wash it down with these places to grab beer:
Great Lakes Brewery: With great Irish beer like Conway's Irish Ale and Wolfhound Stout, it's obvious why you would choose to come Cleveland's oldest brewery for an ale or two. Throw in live music from Cleveland Firefighters Memorial Pipes and Drums at 11 a.m. and it sounds like a plan. The brewery is offering free Fatty Wagon rides downtown, with rides starting at 11 a.m. until two hours after the end of the parade. More info here.
2516 Market Avenue, Cleveland, Ohio
The Flat Iron Cafe: Want to wake up early and experience kegs and eggs? Doors open at 7 a.m. with live music by Donal O' Shaughnessy. There will be a free shuttle all day to and from parade.
114 Center Street, Cleveland, Ohio 44113
Flannery's Pub has been a Cleveland trademark since 1997. The pub recently underwent a total renovation just in time for the big day. The restaurant will open at 6 a.m. and will start serving food at 8 a.m. Music by The Boys from County Hell, a Pogue tribute band, will keep people awake and dancing from 1-6 p.m. Numerous drinks and food specials, too many to name, will be available with cans starting around $3.
325 E. Prospect Avenue East, Cleveland, Ohio 44115
Barley Houseis a good spot if you want to move your St. Patrick's Day celebrations to the dance floor. Doors open at 7 a.m. There is a wide selection of beer and food, including their king corned beef sandwich made on a pretzel bun.
1261 W. 6th Street, Cleveland, Ohio 44113
The Harp:travel to the West Side for music and dancing on St. Patrick's Day. Doors open at 8 a.m. with a limited menu to include a corned beef hash and Cleveland bagels. From 3-6 p.m., live music by Andrew Macmanus will be performed outside in the restaurant's heated tent followed by dancers from O'Malley's Irish Dance Company. The Boys from County Hell will end the night with live music from 8-11 p.m.
4408 Detroit Avenue, Cleveland, Ohio
Platform Brewery: Join other beer lovers at their taproom at 8:30 a.m. Sunday. The brewery will serve its famous Shamrock Shakedown (Milkshake IPA brewed with fresh limes, vanilla, lactose and oats) along with Irish coffee, car bombs made with our Bent Arrow Dry Irish Stout and many more St. Patrick's Day inspired cocktails. When you get hungry, there will corned beef sandwiches and a Reuben sandwich.
4125 Lorain Avenue, Cleveland, Ohio 44113.
RELATED: Free cab ride home on St. Patrick's Day for anyone who lives in Summit County