The corner of Ontario Street and St. Clair Avenue in downtown Cleveland is full of history. The Standard building has been on the southwest corner since 1925 housing banks, office space and even Eliot Ness. The northeast corner has held the Global Center for Health Innovation since 2013, where The Standard resident Maggie Brock can see it from her apartment.
"I love it, it's so airy," said Brock. "There are so many windows, and I've been inside. It's bright and I love it."
The outside might be nice. The problem is that there usually isn't much going on inside.
"That's the sad thing," said Brock. "I keep wondering why this isn't a more functioning building. It really should be."
From Medical Mart to Jury Duty
When what's now known as the Global Center for Health Innovation was being planned in the mid to late 2000s, the goal was to create a medical version of the Merchandise Mart in Chicago.
While the Merchandise Mart could be a one-stop-shop for buying furniture, the Medical Mart would be a singular location for medical companies and innovators to have access to the Cleveland Clinic, University Hospitals, MetroHealth and researchers at Case Western Reserve University.
"That's why it made sense," said former Cuyahoga County Commissioner Tim Hagan, who describes himself as the chief proponent of the project. "What was the strength of Cleveland [at that time?] The medical facilities of the community."
Before it was built, the Great Recession pummeled the economy. By the time the Medical Mart was completed in 2013, it had been changed to the Global Center for Health Innovation, and Hagan says the companies the project would need to succeed were already waning. He says some companies had bounced back from the recession, but, he said, not significantly enough that people were looking outside of their own interests and investments.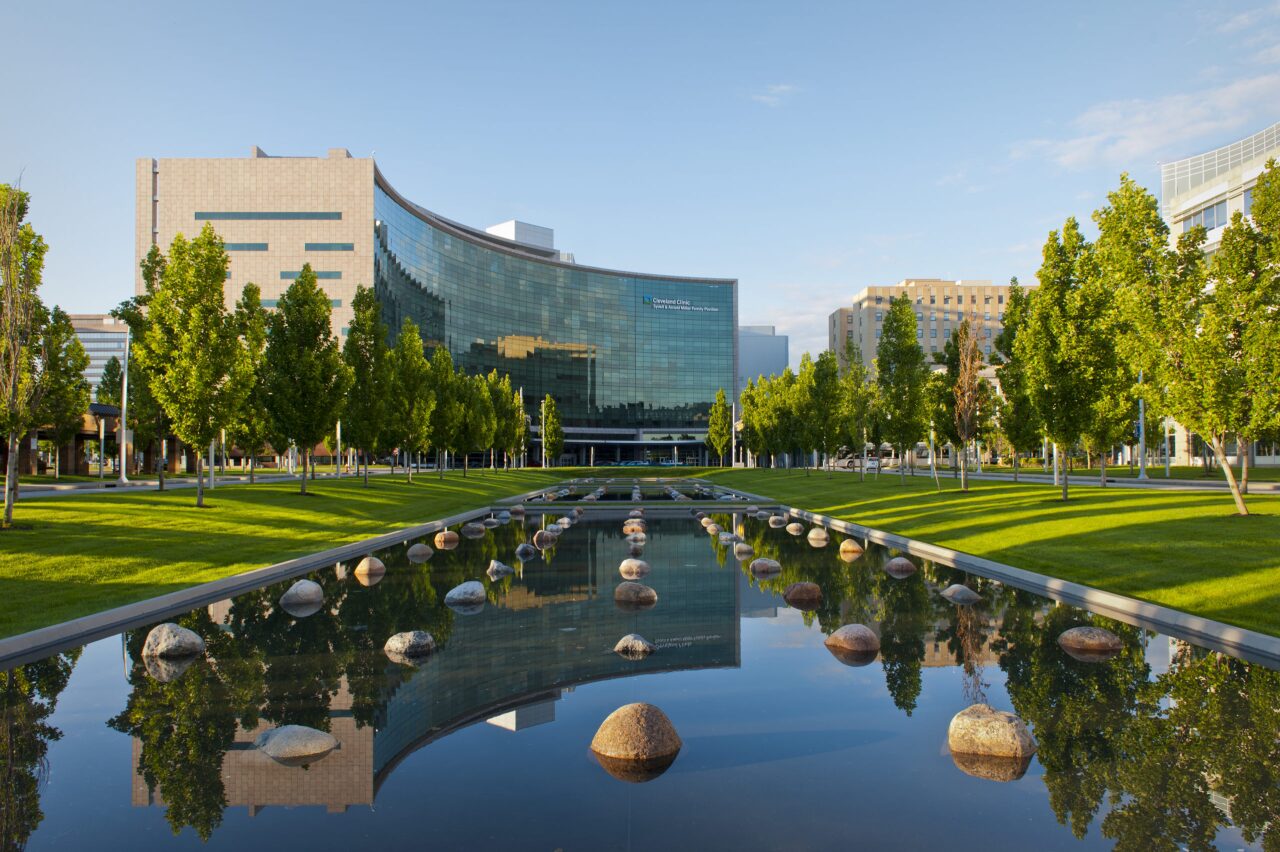 So, the Global Center for Health Innovation never became the hub of medical discovery that Hagan had imagined.
"It doesn't look great now," Hagan said.
Today, the building is being used as a place to gather juries for Cuyahoga County and keep them socially distanced. Additional plans are underway for the building to serve as a location for civil trials.
'It was a piece of the whole, really'
Hagan and others around Cuyahoga County when the Global Center for Health Innovation was being planned say it was a big, necessary piece of the revitalization in Downtown Cleveland.
"Everybody in the town was committed to trying to revitalize a city that was in decline," said Hagan. "It was a piece of the whole, really."
As part of an effort to make Cleveland more marketable to tourists and out-of-town conventions, Hagan says The Cleveland Convention Center needed a renovation, but there wasn't any money to do it. Combining the convention center renovation with the Global Center for Health Innovation project was the only way to get either project done.
"We would probably get a new hotel in Cleveland and we would be competitive with Pittsburgh and Louisville and other cities across the country," said Hagan.
Many of those hopes have been realized.
The Hilton in downtown Cleveland is right next to the Global Center for Health Innovation, and the renovated Huntington Convention Center of Cleveland has played a large role in bringing events to Cleveland since it opened. The space was used for the 2016 Republican National Convention, the 2019 MLB All-Star Game and played a large role landing the 2024 ASAE (American Society of Association Executives) Convention, which a Convention Center spokesperson says is considered "the Super Bowl of the convention industry."
The Convention Center says it has brought in 1,304 events and 1.392 million people since it opened. That translates to 631,000 nights spent in Cleveland hotel rooms and an estimated $700 million local economic impact.
Hagan said that without the Global Center for Health Innovation, The Huntington Convention Center of Cleveland, and by extension, the benefit it has brought to Cleveland, never would have happened.
A convention center spokesperson said the Cuyahoga County Convention Facilities Development Corporation is considering using the Global Center for Health Innovation as an extension of the Huntington Convention Center of Cleveland more regularly to provide additional conference room space.
Inventory of Open Spaces
"Given the weight and the enormity of the problems in our city, we should all be rolling up our sleeves and putting our egos aside," said Cleveland Can't Wait Founder Justin Bibb.
Bibb says the large under-used buildings like the Global Center for Health Innovation and the IX Center hold potential, but only with the proper leadership.
"It all boils down to jobs," said Bibb. "I think the key question is: How do we make sure we don't keep [taking] our foot off the gas in terms of thinking about how we can be more aggressive in terms of economic development."
He says other cities are already thinking about how to use their assets to bounce back from the coronavirus pandemic, and Cleveland should be having those talks too.
"I think there's some conversations but we got a long way to go," said Bibb. "I fear that we don't have the sense of urgency about what our recovery initiatives should look like and now more than ever we need to be bolder about that conversation."
Download the News 5 Cleveland app now for more stories from us, plus alerts on major news, the latest weather forecast, traffic information and much more. Download now on your Apple device here, and your Android device here.
You can also catch News 5 Cleveland on Roku, Apple TV, Amazon Fire TV, YouTube TV, DIRECTV NOW, Hulu Live and more. We're also on Amazon Alexa devices. Learn more about our streaming options here.