Downpours over the weekend are bringing flooding to a wide swath of Northeast Ohio. Residents woke up to their yards saturated in water and streets barely recognizable. The videos above were captured by our photographers in Barberton and Clinton. They show parks and streets flooded, as well as residents walking in knee-high water with their dogs and vehicles taking a big risk by driving through unknown depths of flooded streets.
Road closures
Here is a list of road closures across Northeast Ohio:

Vaughn Road at Riverview Road in Brecksville
State Route 302 between Silver Road and West Old Lincoln Way in Wooster
State Route 43 between OH-619 and U.S. Highway 224 in Stark County
State Route 13 south of Geisinger Road
State Route 241 between Strausser Street NW and Shuffel Street NW in Stark County
Riverview Road between West Bath Road and Ira Road in Summit County
State Route 165 between SR 62 and SR 46 in Mahoning County
Barber Road between Norton Avenue and I-76 in Barberton
State Route 43 between OH-619/West Maple Street/Steffy Avenue SW and US-224/Akron Canfield Road in Stark County
Kungle Road bridge in the New Franklin/Norton area collapsed overnight.
RELATED: Kungle Road bridge collapses following heavy rain
New Franklin police are blocking off the northbound lane of Manchester Road north of Comet Road due to a sinkhole forming near the guardrail.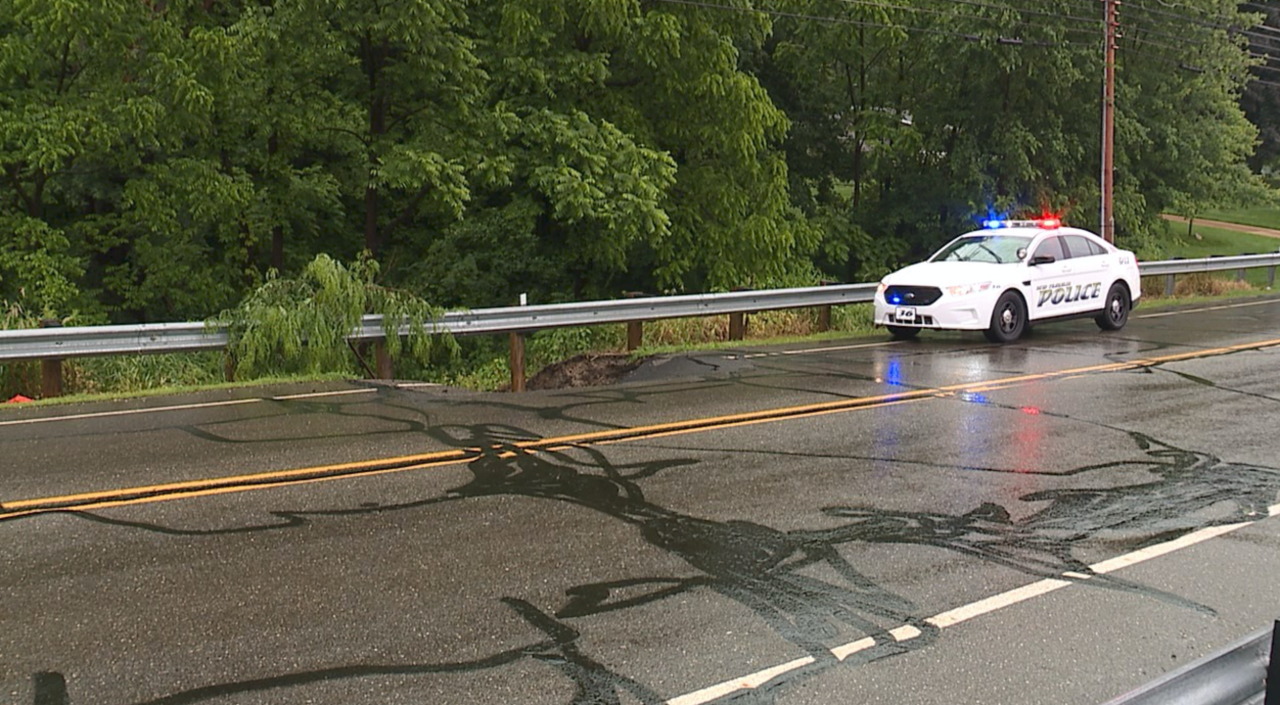 Areas hit hardest by the flooding include many cities in Summit County, such as Barberton, Copley and Norton. Entire intersections are underwater. News 5's morning crew captured what was left after the heavy rain. The intersection at Norton Avenue and Fourth Street near Barberton High School is closed to traffic because of high water.
In Copley, Pigeon Creek overflowed, causing Knox Boulevard to be closed to vehicle access, but that didn't stop people from trying.
Rittman has declared a state of emergency because of flooding. This is Knox Blvd in Copley. Pigeon Creek overflowed it's banks.

We saw someone in a truck drive through this. Be aware that your morning commute may take longer than usual. #WEWS #GMCle pic.twitter.com/WDToRrzv0L

— Jon Rudder (@JonRudder) June 17, 2019
Images of floodwaters
Chippewa Lake where a woman said she has lived there for seven years and has never seen it so bad.
St. Helena Heritage Park in Canal Fulton has been engulfed in water.
The Tuscarawas River has overflown onto the streets of Clinton.
Rainfall totals
The National Weather Service said rainfall reports from the past 48 hours reveal many areas south of Cleveland received more than 3 inches of rain, with the heaviest rainfall being 3 to 5 inches across Richland, Ashland, Wayne and Summit Counties.
RELATED: Heavy rainfall brings area well above average for June - but why?
Flash Flood Warning
The National Weather Service has issued a Flash Flood Warning for parts of Northeast Ohio, including Medina, Wayne, Ashland and Summit counties until 8:45 a.m. on Tuesday. More info here.
State of Emergency
In Wayne County, the City of Rittman declared a state of emergency due to flooding. Officials now say it is not under an SOE. More on this story here.
Small earthquake
As if all this rain wasn't enough, a 1.5 earthquake hit Willowick on Sunday night. This one comes on the heels of the 4.2 quake that was centered north of Lake County in Lake Erie last week. More on the small earthquake here.
Tornadoes
The National Weather Service confirmed that not one but two EF-1 tornadoes touched down in Northeast Ohio Sunday: one for about two miles in Cuyahoga County, and the other for about 13 miles in Trumbull County.
Check out this damage in Oakwood in SE Cuyahoga county from this afternoon as a tornado warned storm moved over the area. The storm quickly started showing signs of rotation and then weakened before getting stronger again over Trumbull county.#weather #WEWS #Cleveland pic.twitter.com/TkHwVqdw0i

— Remeisha Shade (@RemeishaShadeTV) June 17, 2019
Download the News 5 Cleveland app now for more stories from us, plus alerts on major news, the latest weather forecast, traffic information and much more. Download now on your Apple device here, and your Android device here.
You can also catch News 5 Cleveland on Roku, Apple TV, Amazon Fire TV, YouTube TV, PlayStation Vue, DIRECTV NOW, Hulu Live and more. We're also on Amazon Alexa devices. Learn more about our streaming options here.